---
Well done those who competed at the Cambridge 6s event held last weekend. Big day out and lots of fun.
punks
The punk team did well to get a placing in the dress up (no mean feat when it is taken so seriously by some teams!). And also a big congratulations to Peter Daffurn and Judith Howard who were second in the intermediate section.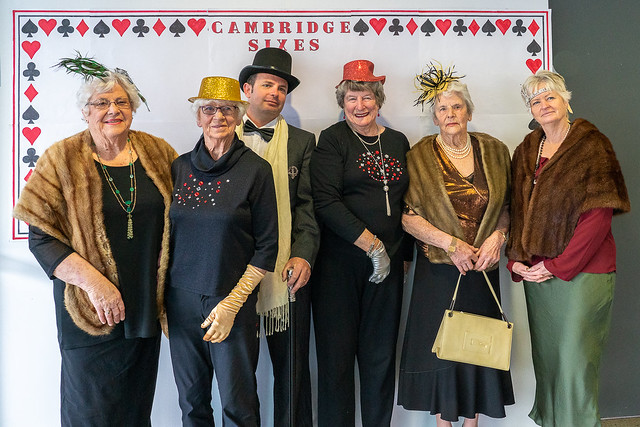 Matamata hoi polloi
The other Matamata team looked the part also!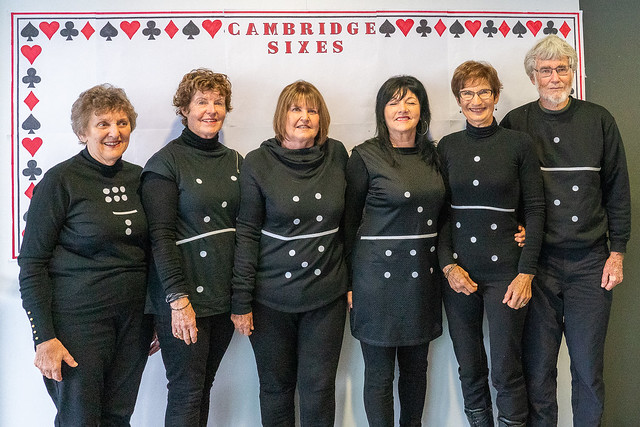 Morrinsville
While Morrinsville was set for a tumble (being domino's and all!)
BENEFIT NIGHT-Fund raising and Bridge.
Matamata held a very successful benefit night last Thursday raising $900 to go to the Matamata Citizen's Advice Bureau.
A good amount of tables turned up to play - 12 in total including visitors from Te Aroha and Morrinsville.
The Matamata 5A was well supported by both players (40 pairs packed the clubrooms) and club members who helped in a myriad of ways. Great catering, sponsorship from J Swap as well as Sonia Crawford donating wines for the session winners.
Winners following two session wins were Te Puke's Christine Gibbons with Waikato's Jenna Gibbons.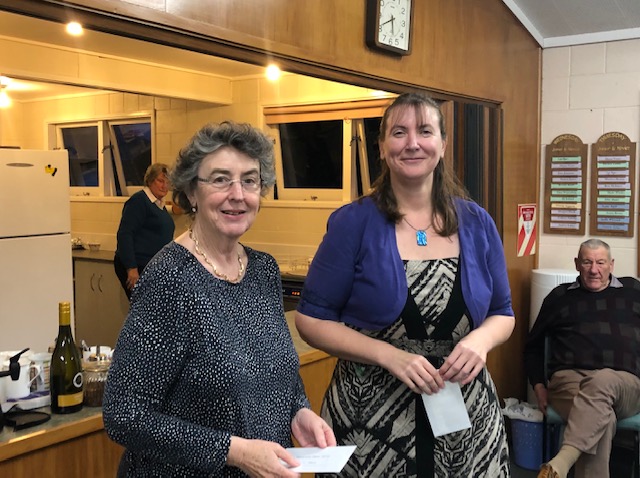 Winners of 5A: Christine and Jenna Gibbons
Russell Wilson from New Plymouth and Patrick Carter of Auckland repeated their effort from last year coming second.
2nd place: Russell Wilson and Patrick
Our very own Noel Grigg combined with Jeremy Fraser-Hoskin the young gun from Auckland to take out third place with a session win in the morning and 61% in the afternoon.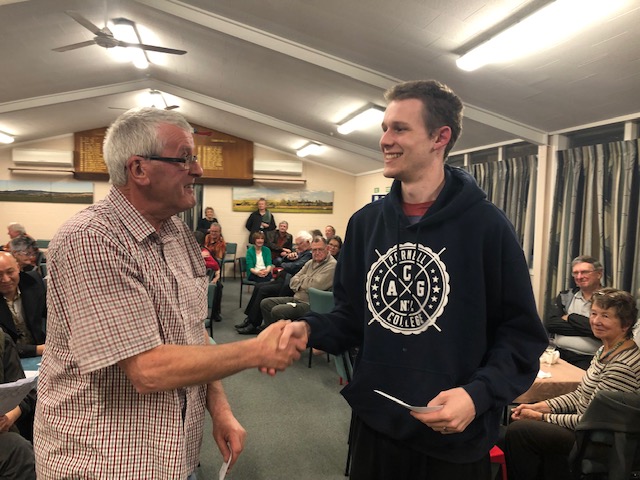 3rd place: Noel Grigg and Jeremy Fraser-Hoskin
The best Matamata pair was Lesley Quilty and Anna Kalma while the top non-open were Joanne Swanwick and Judith Howard also from Matamata.
Packed room
The club received the sad news that George Sherrell died yesterday in Tauranga where he had been for the past six months and Desma Dickinson from Matamata also passed away after a prolonged battle with Parkinsons last Tuesday.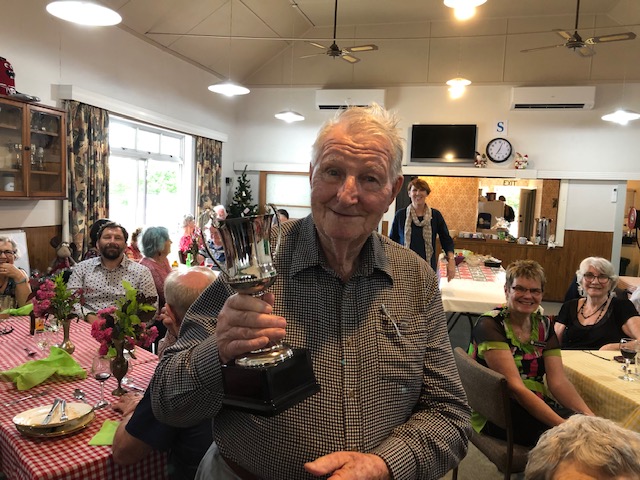 George: George winning the 2018 Auckland Cup at Te Aroha
George belonged to the Matamata, Cambridge, Te Aroha and Hamilton Clubs and played at all of them each week.
He will be remembered as a gentleman of bridge and kept the order (especially at Te Aroha!) using his directing experience of many years. He always got into the spirit of events and dressing up and taking part and was still winning events at age 90.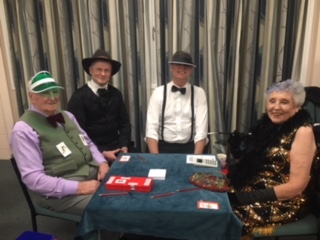 Gamblers: George, Malcolm, Peter and Laurie
Desma Dickinson was a longtime member of the Matamata Bridge Club and friend to many. Desma has battled parkinsons for many years but it was great to see her returning to the club after a few years away. Sadly the disease got the better of her over the past year and she passed away at 75 years.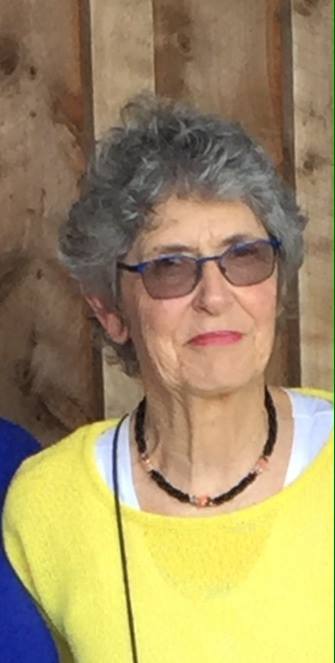 Desma Dickinson
Both Desma and George will be missed at the table.
The Matamata Open 5A Tournament takes place in Matamata on the 27th July. Morning tea from 9:30am and 10:00am start.
The entry fee of $38 includes a beautiful catered lunch. morning tea with refreshments following.
Online pre-payment welcome to 03-0363-0323853-00.
Entry online at the NZ Bridge website or to contact us matamatabridge@gmail.com.
Also Benefit Night will be on Thursday 8th August. We welcome visitors from other clubs and will provide details shortly.
The 2019 Matamata Champs came to a conclusion following 7 nights of competition.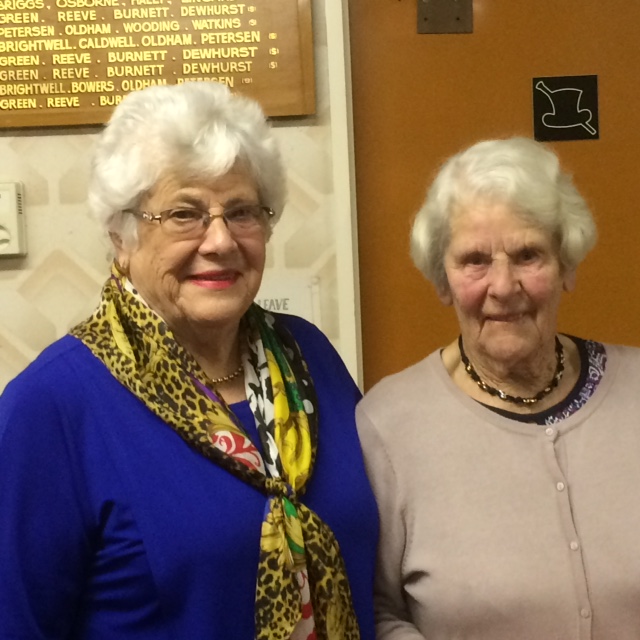 Lesley and Sonia
The honours board has a familiar feel with Lesley Quilty and Sonia Crawford taking the outright champs for another year. Not sure how many times their names are on the board with each other and other partners but it must be about 20!
And congratulations to Helen Reid and Coral Daisley who took out the handicap event running concurrently.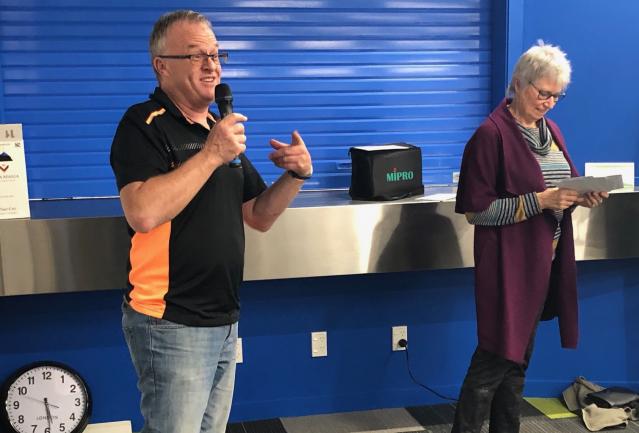 Jones Team winners of the Open
Six wins from six secured the win for the Jones Team consisting of Barry Jones, Jenny Millington, Julie Atkinson and Patrick Carter. Patrick and Julie departed before the prizegiving and left it to ex Te Aroha president Barry and Jenny to collect the spoils.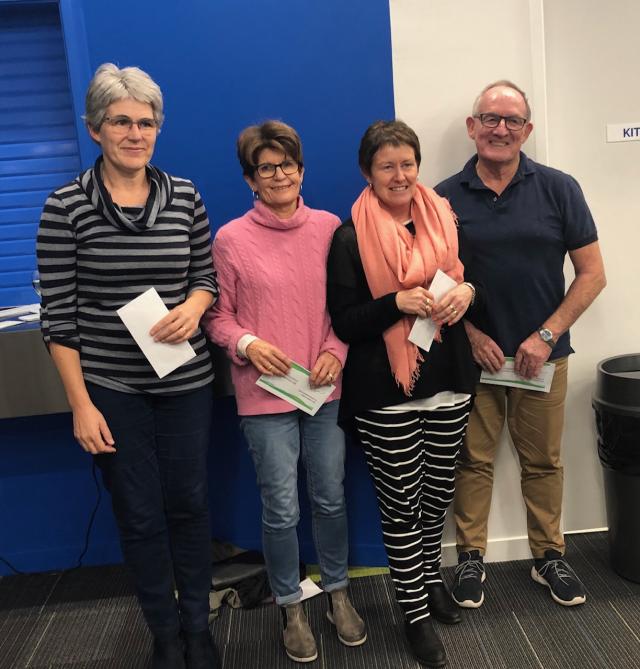 Team Rex
Tauranga's Melanie Rex, Joy Bates, Shirley ain and Graham Young. We had the largest multigrade field to date (which was teams with a combined total of less than 200 A points) of 14 teams. The last two matches gave the winners maximum points handing them the title for the first time.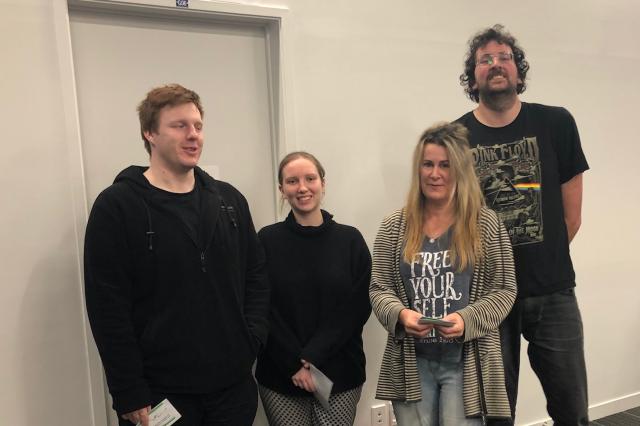 Fisher Team
Team Fisher form Hamilton and Auckland were second in the Open, from left - right Mathew Brown, Andi Boughey,Liz an dBlair Fisher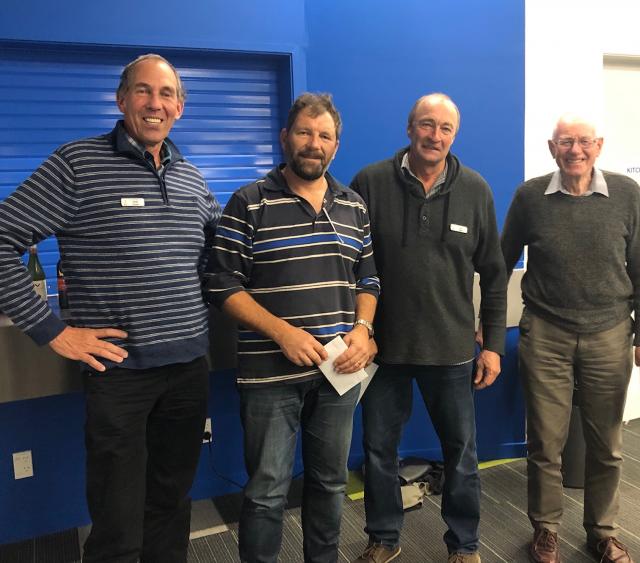 Te Aroha wins second in the multigrade
Te Aroha got on the podium with second place in the multigrade, Well done to Victor Kooter,foster kalma, Tim Rigter and Henk Hemmes.
It was a great day supported by the Te Aroha club - great work with catering, donating raffles and helping out on the day. Thank you to everybody that pitched in.
The club received the sad news that Mavis Buchanan had suddenly passed away. Mavis was a long time and still very active member of the bridge club so it came as a shock to us to hear the news. She was a canny bridge player but also an awesome bowls player having won the NZ championship on several occasions.
Our deepest sympathies to Mavis's family.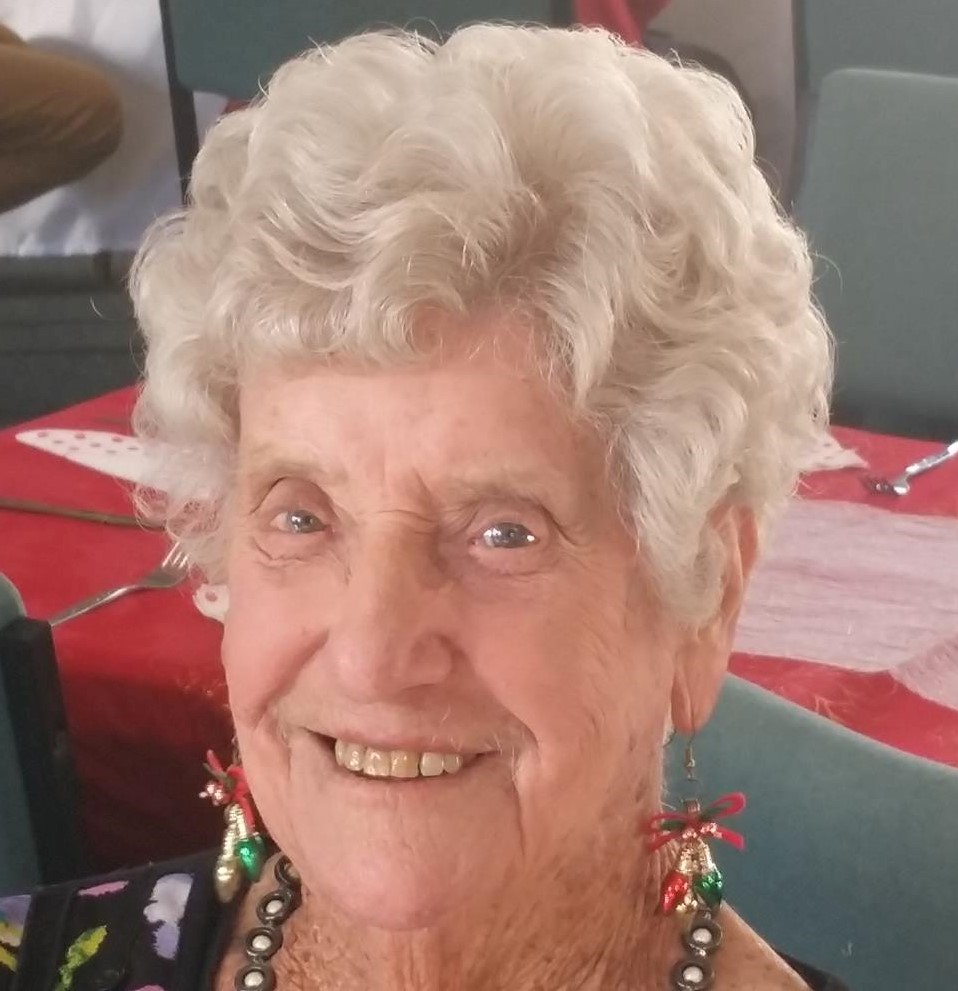 Mavis Buchanan
We will provide further details of her funeral as it becomes available.
Winning the Joanne Prevett Teams last night in Matamata despite a sizeable handicap was enough to finally put a smile on the faces of the Grumpy Old Geezers.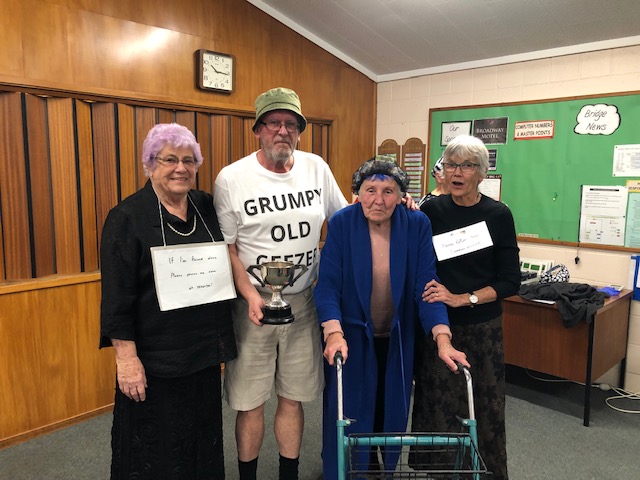 grumpys
From left - Lesley Quilty, Noel Grigg, Laurie Belfield and HEather Kneebone.
The team who won best dressed weren't surprised to have won (apparently they foretold their own victory!)
Gypsy Card readers
Well done to the Gypsy Card readers … Lynn Ryan, Elsie Jonasson, Patricia James and Diann Voyce!
Great to see everybody get into the spirit of the final night of the teams with costumes relating to the letter 'G'.
Goody goody gumdrops
Second overall were the goody goody gumdrop team from left Margaret Reed, Joanne Swanwick, Judith Howard and Anne Beetham.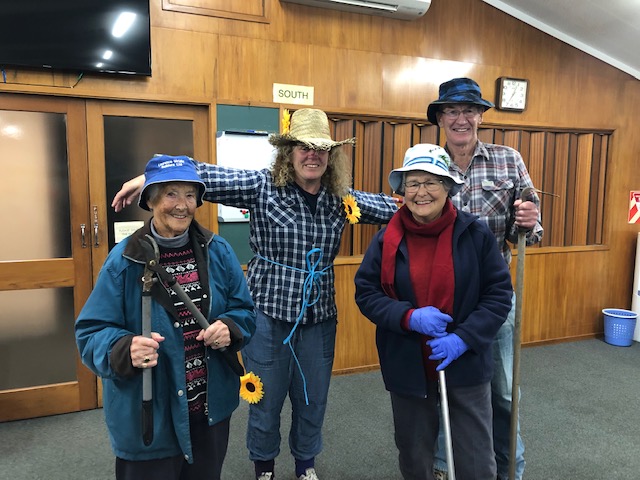 gardeners
Third were the Gardeners: Zelda Clements, Anna Kalma, Ian Bond and Lynette Morgan.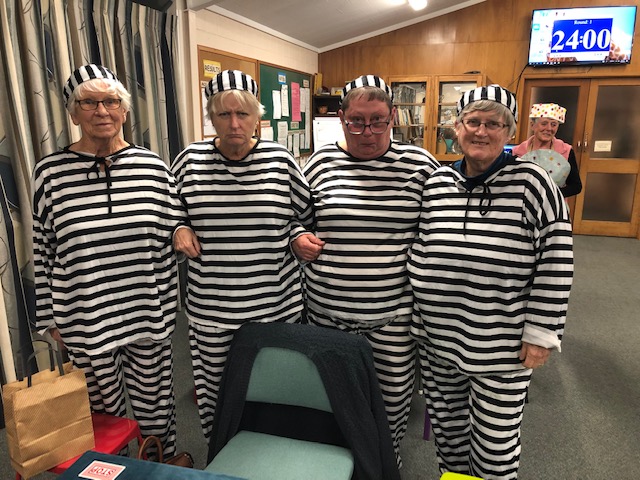 Gaolbirds
They tried to look grumpy gaolbirds but didn't quite pull it off! From left Beth Voster, Michelle Liddle, Kathy Yule and Barbara Hodgkinson who were in fourth place.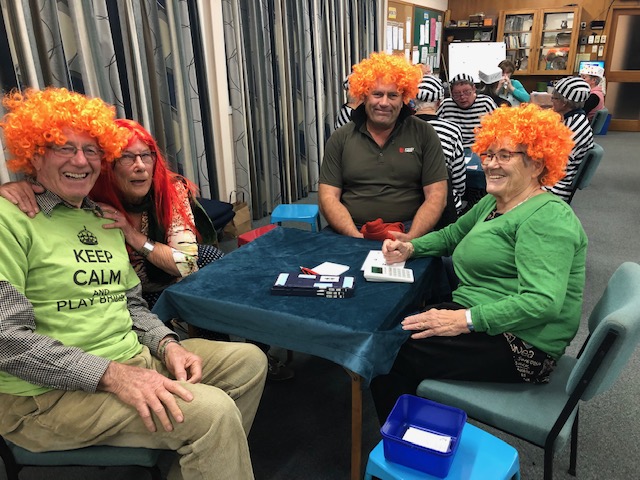 gingernuts
The marginally unPC team of the Ginger Nuts being Henk Hemmes, Dale Swap, Guy Kalma and Hermanna Hemmes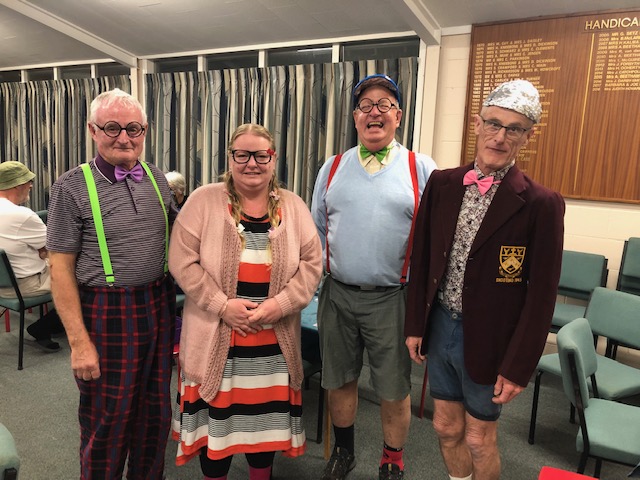 Geeks
The Geek team of Austin Brown, Rachel Aylett, Julian Mason and Peter Tait-Jamieson were the braintrust.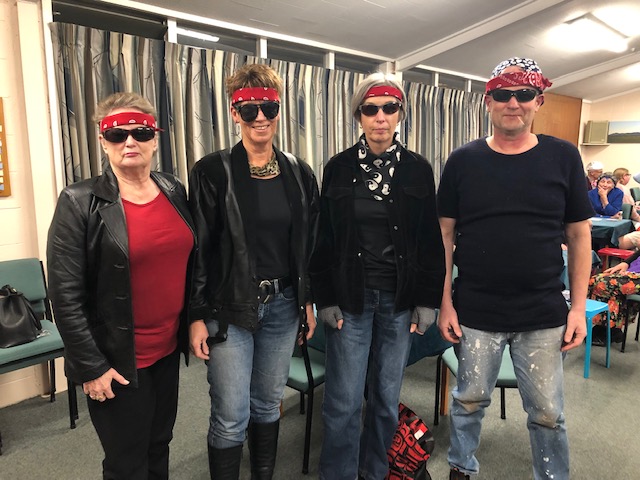 Gang
The Gang of Joan Darby-Smith, Maeleen Borkin, Suzanne Cullen and Malcolm Kirkby looked the business.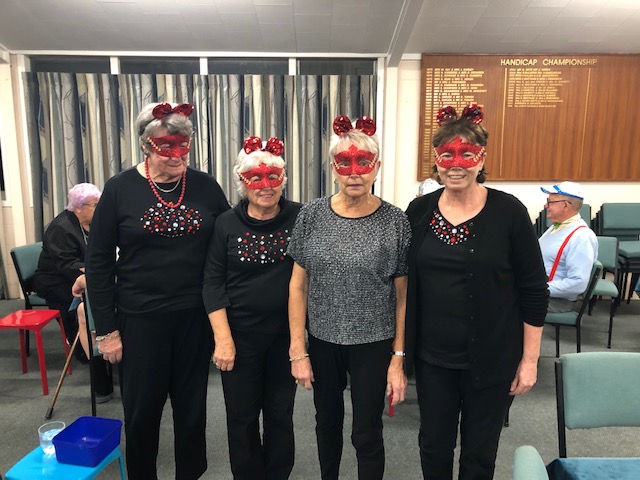 Glitterbugs
Finally the glitterbugs provided the sparkle which included Elaine Saywell, Jill Ireland, June Barbour and Trish Bruce,
Monday Night saw the completion of the Quilty Trays where outside teams rocked up to Matamata for three nights to play in a round-robin teams tournament.
Teams from Rotorua, Waikato, Morrinsville, Te Aroha, Cambridge, Tokoroa and Cambridge … along with Matamata did battle in this annual event. The highlight included the supper but there was some good bridge played as well. There was no team that dominated and anybody could have taken the event out heading into the final stanza.
However, it turned out it was home team advantage to the Crawford Team who despite a loss in the last match had done enough to secure victory!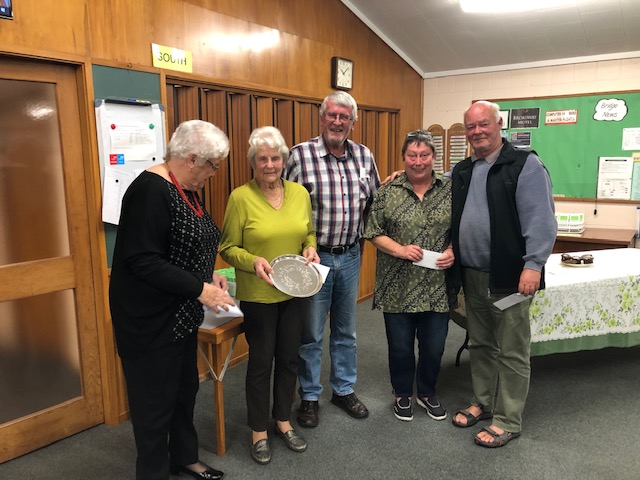 Crawford
From L-R Lesley Quilty hands over the silverware to Sonia Crawford, Noel Grigg, Kathy and Ken Yule.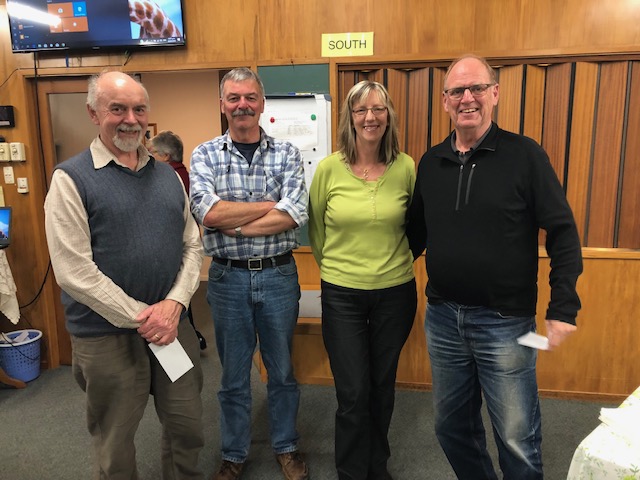 Cambridge
Nobody was as surprised as the Cambridge team to see that they had snuck into second place. Well done to Mike Neels, Jan Spaans, Jane Stearns (super sub for Don Wilson) and Kevin Whyte.
And in other tournaments …
Rochelle and Anna
Rochelle van Heuven and Anna Kalma won the Te Awamutu Restricted tournament in the weekend.
Remember we have the Waikato Area Pairs being hosted on Sunday at the Matamata bridge club. All welcome from keen juniors up.