LEssons starting soon
---
Tell your friends and family ... help spread the word!
Lessons kick off at Te Aroha on Thursday 7 March at 7pm at the Te Aroha Clubrooms on Whitaker Street.
Contact Anna Kalma on 0275 183 133 or anna_kalma@hotmail.com
Morrinsville Bridge lessons started this year on Tuesday March 12th at the Morrinsville Bowling Club. Tutor will again be Nick Whitten and they're free. So if you want to learn to play Bridge - and it's very good for the brain - come along at 7 pm. Phone Nick at 07 8897831 or Rex at 07 8897348 if you need to know anything.
While Matamata starts their lessons Wednesdays 20th March at 7-9pm as per the attached flyer.
Contact Judith Howard on 027 2267731 or j.howard@xtra.co.nz
The following is an introduction to bridge which might whet your appetite:
https://youtu.be/VwgUS0fdi08?list=PL1VTPqqh0e765knOO-G0k7Xh3ZZNtDCnb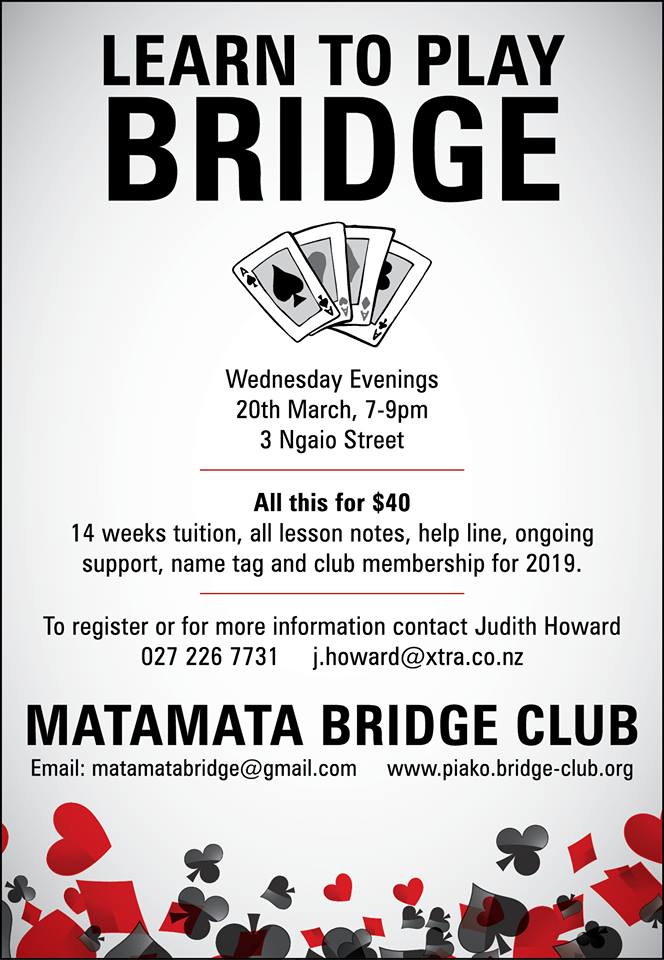 Flyer