You are hereVisitor Information
Visitor Information
---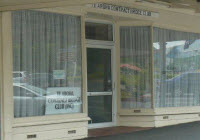 Clubrooms
105 Whitaker St, Te Aroha
e-mail: tearohabridge@gmail.com
Playing times: Tuesday 7.15pm and Fridays 11.30am
Visitors most welcome.
Partner Steward: Anna Kalma ph 07 8873 686 or anna_kalma@hotmail.com
Plenty of parking on the street or in the supermarket carpark adjacent (outside of shopping hours).
Travelling with bridge buddies from or to Te Aroha? Check out the mileage rates below to work out a fair fare based on mileage and number of passengers to other Waikato-Bays location.
Click to find us on the map