---
Waikato players now have special areas in BBO to maintain their skills while enjoying the company of others in the Region. We have been working towards the concept of each of the region's bigger clubs hosting a session or two every week so there's something on offer for everyone.
We're going to leave it up to the organising clubs to set up their own sessions. While we place emphasis on the need to encourage mainly newer players to take part, we also recognise that our more experienced players would appreciate the opportunity to compete against their friends at other clubs in the region. The schedule laid out below is a first cut that, hopefully, will offer something for everyone. As we settle into it we will be making alterations and, hopefully, additions so we can offer two sessions a day.
So - our first-cut weekly schedule:
Monday 1pm Matamata hosts Matchpoint Individuals open to newer players throughout NZ.
Monday 7pm Te Awamutu hosts Matchpoint Pairs open to Waikato-Bays Listed players only.
Tuesday 7pm Te Aroha hosts Matchpoint Swiss Pairs open to Junior and Intermediate players throughout NZ.
Wednesday 7pm Rotorua hosts Matchpoint Indivduals open to Waikato-Bays Listed players only.
Thursday 1pm Tauranga hosts Junior/Intermediate players at Matchpoint Pairs open to anywhere in NZ.
Friday 1pm Piako hosts Matchpoint Swiss pairs open to NZ players only.
Friday 7pm Cambridge hosts IMP Swiss Pairs open to all NZ players.
Saturday 7pm Hamilton hosts IMP Swiss Pairs for Open and stronger Intermediate NZ players.
Sunday 7pm Rotorua hosts Matchpoint Indivduals for Beginner and Novice NZ players.

Please click the Read More button below to ... read more ...

What to do once you're registered with BBO (please have your NZB number showing in your profile)

Entries open two hours ahead of scheduled start time. Be sure you are on BBO before start time - either playing or in the lobby.
Just follow these instructions and you should arrive at the right place at the right time
Any time within two hours of start time log in to BBO and go to HOME at the top
Click on Competitive
Click on Free Tournaments
In the search box at top start type "WB" - the tournament should appear
Click on it
For Pairs you must enter your partner's BBO name to get registered. If it's an Individual just your BBO name is all that is required
Stay on BBO or come back before start time - either kibitzing or playing or just lurking in the lobby
At the appointed time you will be unceremoniously whisked away and plonked in a seat at the tournament
You know what to do then. Have an enjoyable game
When it's all over you'll be able to find your results on the History tab of your side menu.
To ensure the integrity of our fields, entry to our region-wide tournaments which are run by director chameli is restricted to just the BBO names that have registered with us at nzw247@gmail.com. Get your BBO name registered and join in the fun.
For - well - anyone, really, there's a totally excellent resource on how to use BBO on the NZBridge website c/- Karen Martelletti.
Also .. check out these YouTube videos
Good night with 14 tables (56 players) taking part online in an individual. A few people somehow didn't make it onto the table but hope those that did enjoyed the experience. We will repeat on Friday.
The scores are sort of irrelevant in an individual but we are competitive and like to know … so the final placings were as follows!
Name Score (%) Rank
shirltowns 75.26 1
samennz 69.37 2
Joysie1 67.29 3
Rainboat 65.32 4
drycow 63.32 5
phriday 62 6
AL 059 60.44 7
tchavagrou 60.38 8
flica3 59.56 9
Totarakid 59.33 10
notrumpluv 58.51 11
Zara54 57.79 12
Motleycat 57.01 13
BethVo 56.71 14
NZBEAR 56.35 15
radar51 55.63 16
kiwiliddle 54.95 17
happytiges 54.93 18
Brownie10 54.91 19
lesgarth 54.39 20
cruisechic 53.93 21
newby51 53.43 22
Umpah 52.34 23
clusker 52.1 24
aconahonda 51.66 25
louloucam 50.52 26
lann1 50.24 27
litenin 49.76 28
diann1 49.68 29
KevinB100 49.56 30
guyzer5 48.48 31
Top Cru 48.2 32
rock70 47.98 33
judithhow 47.84 34
pres 63 47.12 35
hhemmes 46.96 36
minnie16 46.33 37
chameli 45.95 38
hafrisch 45.11 39
Ricsym 44.73 40
Mierie 43.55 41
ShirleyBa 42.47 42
bloss06 42.19 43
Lozza18 40.79 44
moiralags 40.71 45
lynnycam 40.06 46
kski 39.94 47
Turtle Top 39.92 48
joshyteeee 38.56 49
8east 38.28 50
Teela14 37.46 51
Silverbeet 37.2 52
te puru 36.38 53
garthles 35.82 54
heinilux 35.42 55
peterpietj 25.9 56
There have been a number of opportunities for bridge players to continue playing in the comfort of their own house recently.
Thanks to Peter Daffurn and Judith Howard who have been organising club matches on BBO and arranging access and instruction for those wanting to get online.
Along with regular twice daily New Zealand online tournaments arranged by Auckland Bridge Club. The Waikato Bays are slowly setting themselves up with other options to play. Keep an eye on the Waikato bays website with other opportunities to play.
We will be holding Piako Bridge Matches this week on BBO … on Tuesday night at 7pm and 1pm on Friday.
These are for piako bridge club members or neighbouring clubs only.
These tournaments will be hosted by akalma and be named 'Piako NZ' or something similar.
Judith and Peter are also keeping a register of everyones bbo usernames to enable partnerships and registration for club specific competitions. If you want to play or learn how to get onto bbo contact Judith.
IF you are new to BBO there is a number of instructive information on how to bid/alert and undo your bids online... http://www.nzbridge.co.nz/latest-updates,listing,6038,new-to-bridge-base...
Hi all
Based on recommendations from NZ Bridge and the ever evolving situation both Te Aroha and Matamata bridge clubs have made the decision to temporarily shut up shop from all bridge for the next three weeks- club sessions, lessons and tournaments for at least 3 weeks.
There will be no more bridge sessions at Matamata but Te Aroha will play a last hurrah on Friday afternoon the 20th March before shutting up shop.
We will monitor the situation and keep our members informed. As well as looking for alternative ways of carrying on with the game we enjoy - perhaps through house bridge or technology.
Please see below the link to NZ Bridge's latest advisory: http://www.nzbridge.co.nz/latest-updates,listing,6003,coronavirus--bulle...
And keep linked to the NZ Bridge website for further updates (as will we at the bridge clubs).
The key thing is about protecting our members in the short term … while we look forward to returning back to bridge in the medium term.
The first WAP kicked off in Matamata today with a good crowd of 17 tables.
Well done to Kathy and Mike who took out the first WAP of the year with a stonking 73% in the morning and 65 in the afternoon. It was a good day for Matamata with Ian and Lynette taking second and Joy Williams and Michelle Liddle who had a great first section took out the top Junior Junior pairs.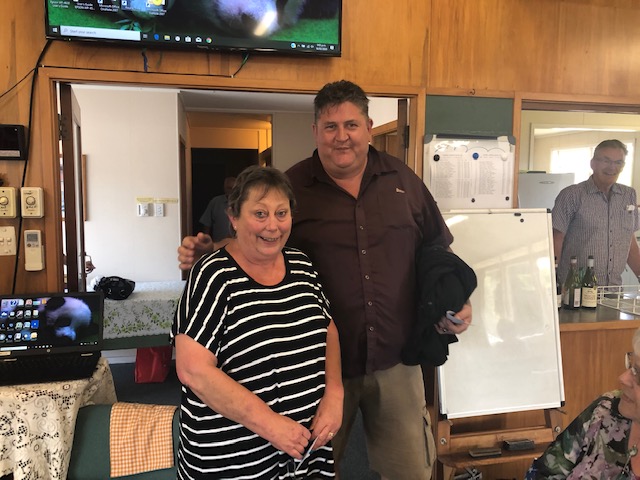 Winner: First place Kathy and Mike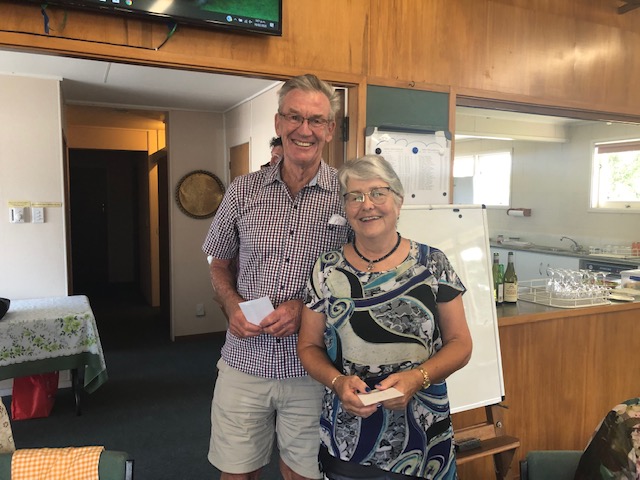 Ian and Lynette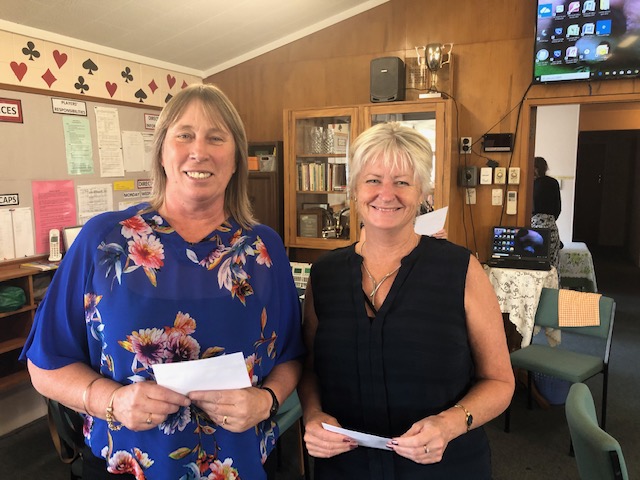 top junior pair: Joy and Michelle `
Matamata Bridge Club kicked off their social holiday bridge on Monday afternoons from 6th January onwards at 1pm for anybody interested - just turn up and we will guarantee a partner.
Wednesday Holiday Bridge starts on Wednesday 15th January from 1pm - 4pm.
Te Aroha also starts back in their social holiday bridge programme - both Tuesday evenings (7pm) and Friday afternoons (from 11.30am) started the week beginning 6th January. No partner necessary just turn up!
Matamata Bridge Club kicked off their social holiday bridge on Monday afternoons from 6th January onwards at 1pm for anybody interested - just turn up and we will guarantee a partner.
Wednesday Holiday Bridge starts on Wednesday 15th January from 1pm - 4pm.
Te Aroha also starts back in their social holiday bridge programme - both Tuesday evenings (7pm) and Friday afternoons (from 11.30am) started the week beginning 6th January. No partner necessary just turn up!
Lesley Quilty was deservedly given life membership at the Matamata Bridge Club at the prizegiving recently.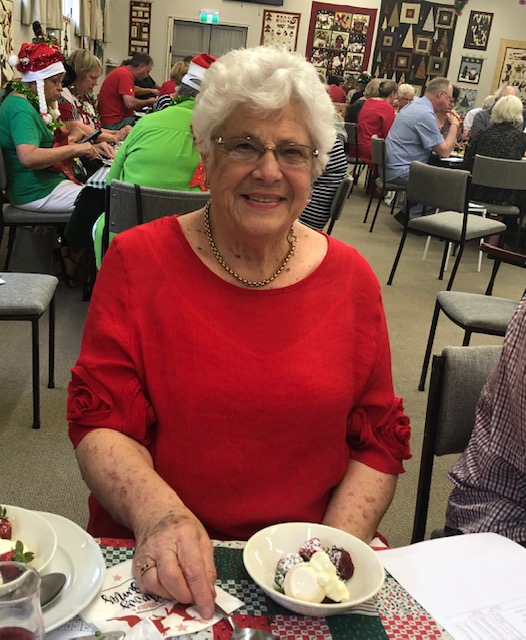 Lesley Quilty
The following chronicles her work and history with the club and the game of bridge in the region.
Lesley joined the Matamata Bridge Club in 1970 after attending lessons. Within 2 years she won her first Open Championship. Over the years she has won many tournaments including the New Zealand Women's Pairs in 1995 and 1996 and The New Zealand Senior Teams to name but a few.
Lesley has represented Waikato in the New Zealand Women's Interprovincial Championships with both Sonia Crawford and Desma
Dickinson, indeed winning the event once with Sonia.
She became Matamata's first Grandmaster in 2008.
From an early stage Lesley became involved in club matters and for
many years did the scoring on Monday Nights. Scoring in the past was done without the aid of computers and calculators and was an extremely skilled task.
Lesley was Club President when our clubrooms were extended. She and husband Jim donated a very generous sum to this project and her keen administrative skills ensured an extremely successful outcome.
Lesley has served on the Matamata Committee for most of her playing career in addition to representing our club and the wider Bridge playing community on the Waikato/Bays Centre for many years, only stepping down recently.
Her donation of the Quilty Tray promoting teams events is a legacy for club members and visitors from the Waikato to enjoy.
Lesley and Sonia offered improver lessons and she has always been willing to help members improve and develop their bidding and playing techniques.
Lesley's deep freeze must be bottomless. On every occasion when catering is required the first person to offer has always been Lesley. Crockpots full of soup, slices and savouries are appreciated by everyone.
Her name is synonymous with Matamata - when you say you belong to Matamata people straight away connect with Lesley's name.
In recognition of outstanding service and commitment over many years, the Committee has great pleasure in nominating Mrs Lesley Quilty for Life Membership of The Matamata Bridge Club.
The motion is seconded by Mrs Sonia Crawford.
28 November 2019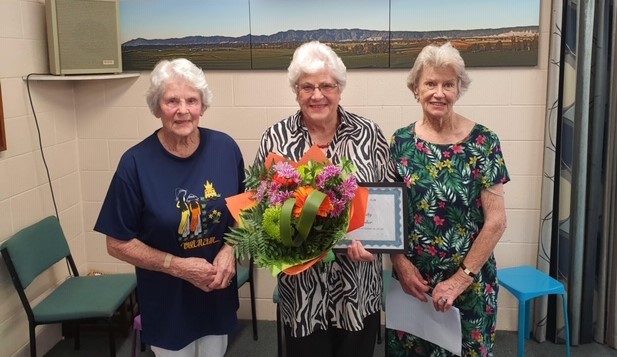 Life Members
Well done Lesley - here she is with the two other life members of the club Sonia Crawford and Ann Ring.
At Matamata's AGM and prizegiving there was a few special people recognised for their outstanding service and performance to bridge.
Kathy received official recognition of her achievement by reaching Gold Grand Master status a couple of months ago when awarded her gold plaque that will likely hang proudly next to Kens. There are just 40 Gold Grand Masters in New Zealand and just 7 of these are women. Well done Kathy!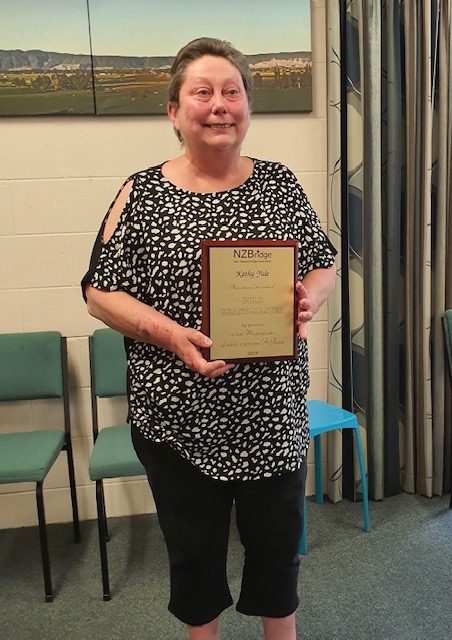 Kathy gets her gold plaque
And joining an even more exclusive group was Lesley Quilty who became Matamata's life member joining Ann Ring and Sonia Crawford. Lesley has been active in the club and Waikato Bays in a number of roles over the many many years she has played bridge. Great to see her service recognised.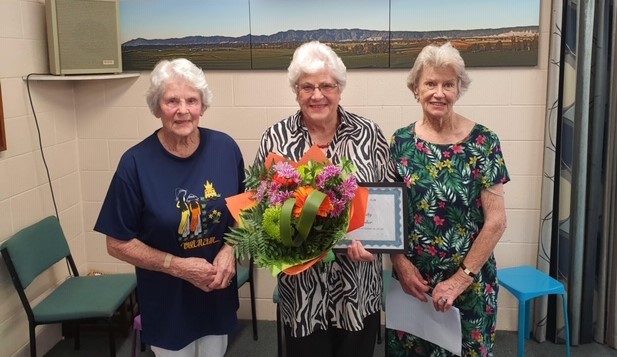 Life Members
Also Christmas Parties coming up:
MATAMATA CHRISTMAS CHEER
Wednesday 4 December
Finger food for a shared lunch.
$5 optional Gift exchange.
Wear Christmassy colours.
THURSDAY 12 December
Xmas Party
Pot luck dinner 6pm
Partners welcome. Please indicate on list in Clubrooms number attending so we can set the appropriate number of places at the table.
Dinner will be followed by prizegiving and Bridge for those who wish to stay.
Again wear Xmas Colours.
TE AROHA
Tuesday Night the 3rd December.
5.30 drinks followed by prizegiving, dinner and then bridge. Welcome all full and associate members and those who have helped out during the year to fill tables!
Members - Bring a plate (but discuss with Laurie to ascertain whether vegetable, salad or dessert!)
Barbara and Joe Keys were celebrated last week at both Matamata and Te Aroha clubs for reaching their Diamond Anniversary ... that is 60 years married.
Congratulations to the Keys:)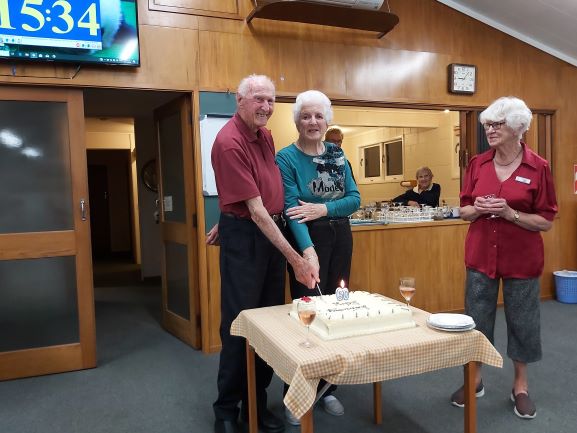 jo and barbara