---
Our three Life Members together for the first time
Warmest congratulations to Beth Vosper who now joins Sonia Crawford and Lesley Quilty as a life member of the Matamata Bridge Club.
Well deserved Beth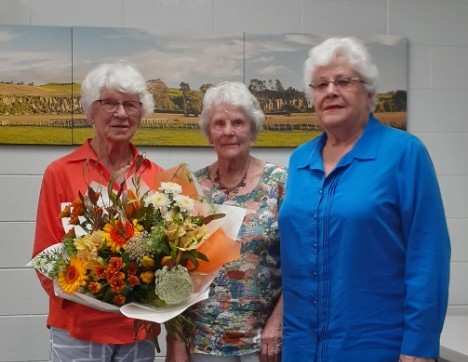 Matamata Life Members
Hope you enjoy the attached newsletter.
There's 2 new Life Members, some really high scores and plenty of socialising
to enjoy...oh, some bridge too!
Richard
oh, if your news has not been featured, that could be because you have not told it to me!
We were sad to hear that Matamata Life Member, Ann Ring, passed away last night. She was over 90 and was still playing regularly at the bridge club ... including last week.
Ann joined the club in the 1960's and served on the committee from 1972 – 1975 before taking a break before serving on the committee for another 13 years. This included 2 years as Vice-President and 2 years as President. She then took another break before serving for another 5 years from 2008.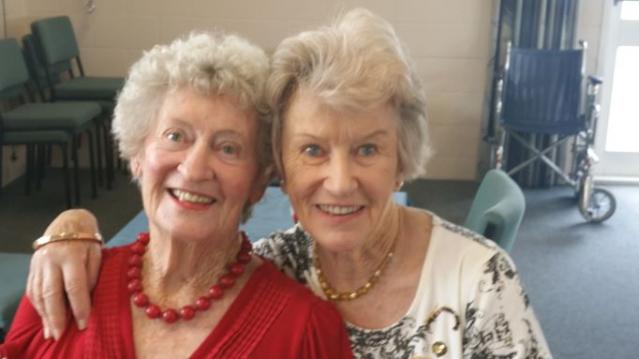 Lucille and Ann Ring
Ann Ring (on the right) with friend Lucille Hughes
A total of 22 years of service to the bridge club on the committee.
During her time with the club, she has been a marker (before the advent of the computer) a partner steward and a handicapper. She attended to the flowers and cooked chickens for the tournaments.
Ann was not one to make decisions lightly. She researched things and consulted others before making a decision.
Her name has figured 8 times on the Championship Board and on the Billy Graham Trophy.
This information was taken from her Life Membership citation in 2012 and Ann has continued to feature regularly on the trophies since that time.
For the last 60 years Ann has been gracious, loyal, faithful, generous member of the Matamata Bridge Club and she will be sorely missed by us all.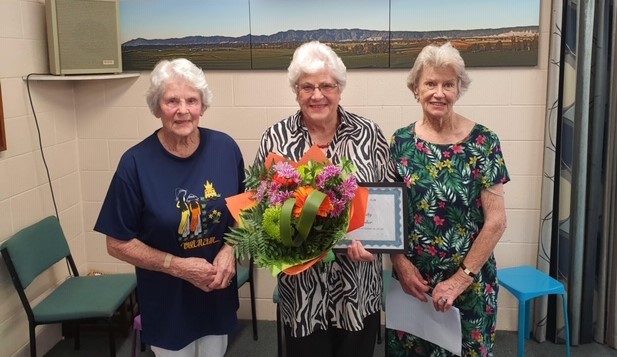 Life Members: From L-R our life members in 2019, Sonia, Lesley and Ann Ring
sorry late posting it albeit Richard distributed it in October!
If your picture doesn't appear in the newsletter - then you weren't playing at the club this month .... with the exception of Ross Stewart who was there but somehow managed to avoid the camera lens!
What a great night - I can't thank you enough!
Matamata Bridge Club held their annual Benefit Night last night (Thursday 22nd September)
This year our organisation of choice was the Cancer Society.
Through the generosity of our members and the support that we received from our local sister bridge clubs we are absolutely delighted with the amount that we have raised for this good cause that touches so many of us in our own lives.
I would like to thank all our members that donated all the "In the Bag" prizes and all the many and varied Raffles. These same members then supported all these raffles by buying up large. A raffle donated by Hermanna and run at Te Aroha the week before also raised $150. Several individuals from our club also gave cash donations to this cause. I would like to thank all the visitors for coming and supporting us. We had 16 visitors come along on the night from 4 different clubs.
Thank you all very much!!!!!!
There are two people I would like to thank personally.
Beth Vosper – Beth suggested "In the Bag" and then we tossed around ideas on how to run it on the night
She also provided all the super and all the prizes. She was always ready to give me advise and support when I didn't know what to do.
Colin LeQuesne – Colin spent hours down at the bridge club with me working out how we would run the night and helping to gift wrap the bags. I needed his considerable help on the night to make the evening run smoothly. He then must have spent hours counting the money!!!!
I am so Proud of our Club and our Members – You Are Amazing
Judith Howard
Matamata Club President
update: Some members are having dinner at the RSA next door prior to Thursday bridge - non bridge playing partners invited to come along - from 5.15pm. Please let Judith know if you are keen to join them (details below).
Matamata Bridge club is running a Benefit Night for the Cancer Society.
Thursday Night 22nd September 2022
Come and join us for a fun night of Bridge. We are running an "In the Bag" evening.
Please advise approximate numbers for catering purposes
Starts 7pm includes supper
Clubrooms 1 Ngaio Street, Matamata
Table money will be $15 including in the Bag entry
Raffles will be sold at $2 tickets
Enquiries: Judith Howard 0272267731
j.howard@xtra.co.nz
It is only about 5 weeks until the NZ Bridge Congress - 8 days of bridge from the 1- 8th October. We are lucky to have the event on our doorstep (well over the hill) at Bay Park in Mt Maunganui.
The event hosts around 15 different events for all levels of players - from an afternoon session for novices (those who learnt in the last 2 years), junior, intermediate, seniors, open restricted through to the 'expert' open.
There is an update today on the NZBridge website; see below
https://www.nzbridge.co.nz/blog/8634/National-Congress-Update-August-2022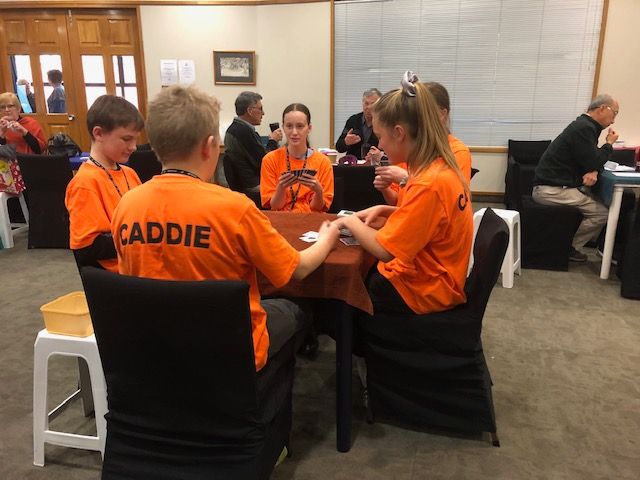 caddies
Early Bird discounts finish up at the end of August for those who register and pay ... talk to Richard Solomon or somebody at the club if you want to find out more about the event. Richard is the overall manager of the event and in charge in organising partners/team mates for anybody interested in attending.
A novelty to bring you the monthly newsletter in the actual month that it relates to.
News is mainly regarding all of our club's success at the bridge table this month!
Attached is the Te Aroha's July newsletter.
Sorry a bit tardy in posting it to the website.
Also note that the club reverts to social bridge this week (week beginning the 8th August) ... we have had a number of covid cases come to light.
Just come along and we will pair you up if you aren't isolating or feel compromised attending f2f bridge.