---
We have been told the sad news that Anne Cummins - a long time member of both the Matamata and Te Aroha Bridge Clubs - passed away today.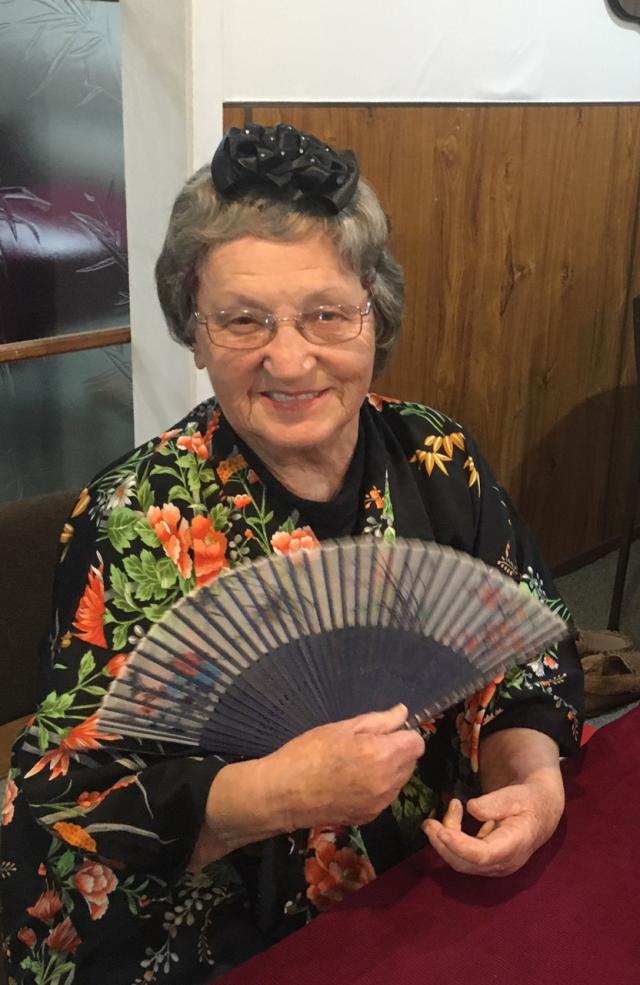 Anne Cummins: Anne getting into the spirit of things at the Te Aroha club.
She has battled illness over the past few years and we all had hoped she was on the road to recovery. So the news was unexpected today only a few weeks after celebrating her 80th birthday.
She had told her daughter that if she passed away on a Wednesday to ring the Matamata Bridge Club as many of her long time friends would be gathered there and playing bridge and this is how the bridge community heard about it.
Anne was made life member of the Te Aroha Bridge Club in 2014 after many years of dedication to the club having joined not long after incorporation in 1953.
Anne didn't regularly play at nights in the past few years ... however she was always available to be called upon to make up a full table at short notice at Te Aroha. She loved playing in Matamata on Wednesday during the day with many of her friends and rarely missed a week.
Sympathies go to Owen and the rest of her family and we will advise arrangements when they are confirmed.
The room was close to capacity to contest the Matamata All Grades 5A over the weekend.
18 pairs which played two 9 tables howells and a 18 table webb movement in the afternoon giving exactly the requisite 60 boards required for a 5A tournament.
The big guns came to the fore in both sessions with Russell Wilson and Patrick Carter Christine and Jenna Gibbons topping the Howells and securing an A point for the mornings effort. While the afternoon was won by Ken Yule and Michael Curry along with Gary Foidl and Antony Hopkins.
However when the dust settled after play - it was the pairing of Ken and Michael that won the event with a solid 60+% in the morning and capping their day with an impressive 66% in the afternoon.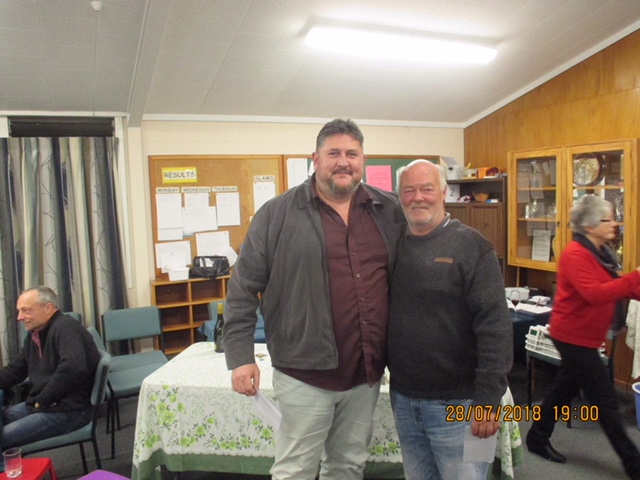 Ken and Michael: Ken and Michael claim victory at the Matamata Open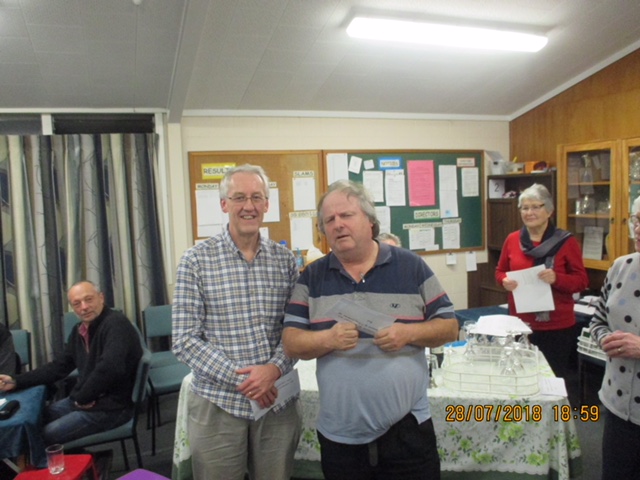 Russell and Patrick
Second place went to Russell Wilson who travelled the furthest for the event and Auckland's Patrick Carter.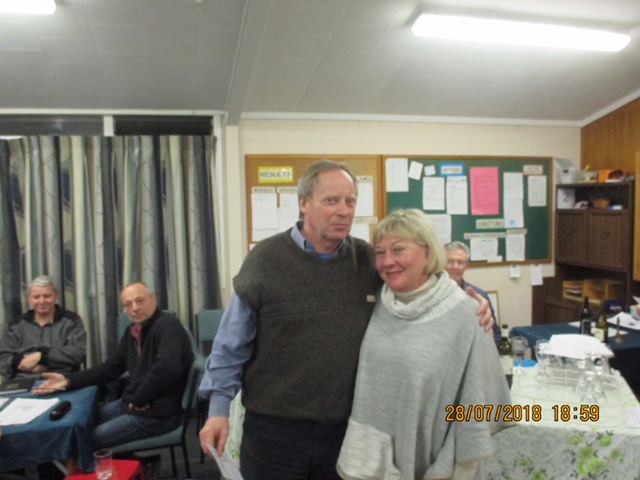 Malcolm and Pam
Third place was Malcolm Mayer and Pam Canning from Auckland.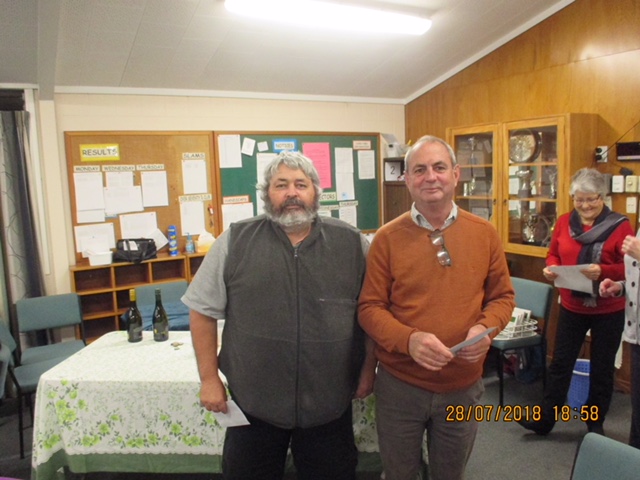 Gary and Antony
And fourth place was Gary Foidl from Waikato and Antony Hopkins from Auckland.
Top Matamata pair was Ian Bond and Lynette Morgan.
We look forward to welcoming competitors from around the North Island for this weekend's Matamata 5A Open who are hoping to challenge our local players for top spot!
A reminder of the particulars:
Entry: $35
Catering: includes lunch and after play nibbles
Start time: 10am (morning tea from 9:30am)
Sessions: probably two but TBA depending on final numbers
Venue: Matamata Bridge Club on Ngaio Street - between the RSA and St Johns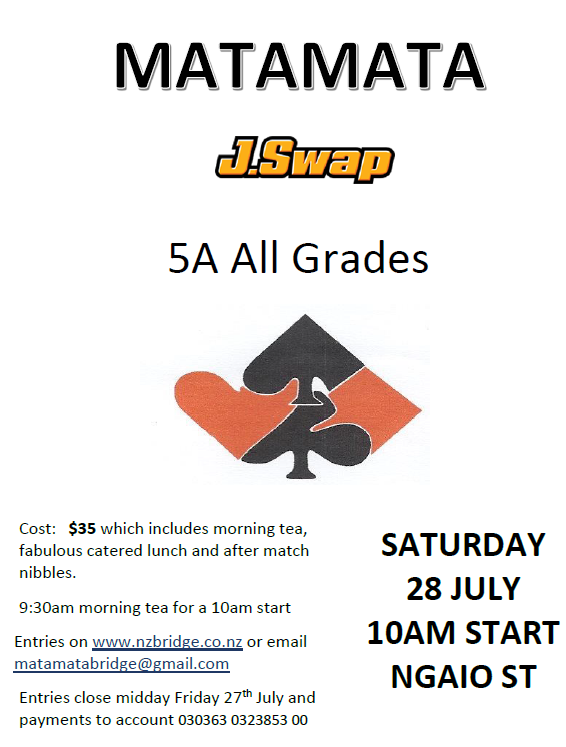 MAtamata Open
NZ Bridge has updated the top 100 A point earners of all time.
We have a few locals on the list;
Ken Yule comes in at 32nd place with 4037 Master points earned; Kathy is 66th with 3300 MPs earned and for the first time Lesley Quilty enters the list at 99th place with 2657 MPs earned over their lifetime.
A belated congratulations also to Judith Howard and Joanne Swanwick who outclassed quite a big field at the Intermediate Pairs in Hamilton over the weekend. Malcolm Kirkby and Eunice Eccles also did well to come in 5th backing up a good performance the previous week winning the Tauranga Intermediate Pairs.
A file photo of Joanne and Judith
The Spa Town Tournament went well over the weekend with 28 teams from around the top half of the country turning up to compete on a very cold and misty Te Aroha day.
We have received positive feedback from many people who attended who said the catering and organisation was first class.
Thanks to all of our members who pitched in with stuff for the raffles (of which we made more then $500) and helped to set up and contributed in some form or other. Also thanks to the Matamata club who allowed us to borrow tables, stools and boards for the tournament.
In particular thanks to John Phillips for dealing 14 sets of boards; Corolyn and Tom Stephenson for organising the catering, Martin, Joan and Peter who helped in the kitchen all day, Pamela Clydesdale who helped in the room all day, Hermanna who made 130 portions of apple cake and Linda who also came and sold raffles for the morning. Once the dust settles and we have worked out the final bills we hope to have raised around $2000.
Also thanks to Laurie and Kristen Rigter for arranging grant funding which provided funding for catering, venue hire and equipment for the tournament which can be utilised going forward and means we now have awesome heat pumps in the clubrooms!
As far as the bridge went ... the best of the Te Aroha bunch was Victor Kooter, Foster Kalma, Tim Rigter and Rochelle van Heuven who came 2nd in the Multigrade.
Charlotte Jager, Jacob Kalma and their partners Wayne Burrows and Gary Foidl narrowly missed out on some prize money in the Open coming in at 6th place.
Matamata, Te Aroha and Morrinsville clubs all sent full teams of 12 to compete at the Waikato Interclub event in Hamilton at the weekend in a bid to battle all the top clubs in the region in the Junior, Intermediate and Open grades.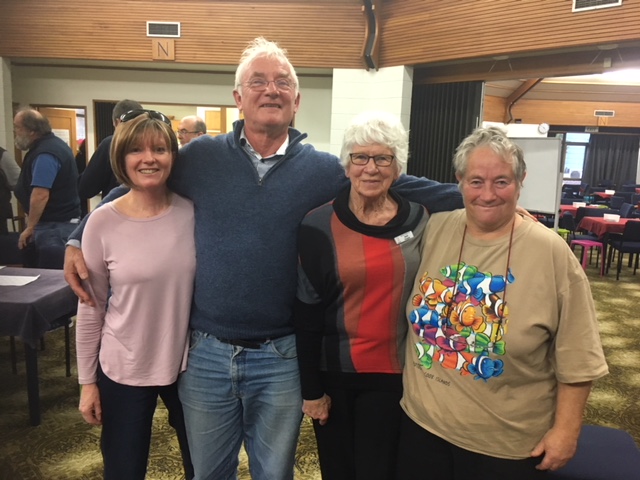 Matamata Intermediate Team: From left Joanne Swanwick, John Phillips, Beth Vosper and Judith Howard
The best performing team out of the Piako Clubs were the Matamata Intermediate Team who topped the Intermediate Field and will be one of two teams to compete against the top Bay of Plenty clubs later in the year.
It was a fun day and the day went smoothly until we got news at the end of play that club member from Te Aroha and Matamata, Alex Randrup, had passed away earlier that day after a short illness.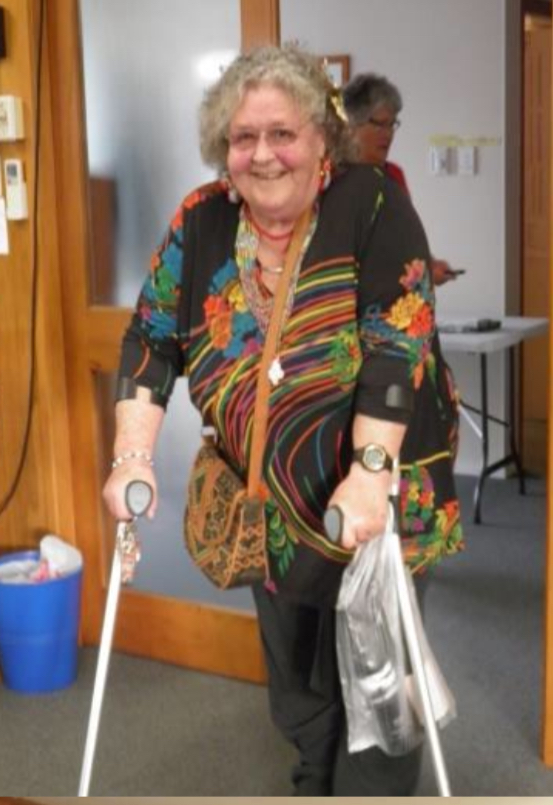 Alex Randrup
We will advise any funeral details as they become available.
We are finalising the fields for the SPA Town Teams tournament to be held in Te Aroha this weekend. If you would like to play or can be on standby please let me know as organising events such like this require lots of planning for every eventuality. We will also need people on the day to help us run the event so don't be shy about coming to the Silver Fern Events Centre during the day as I'm sure we will find a job for you.
Good conclusion was had to the Joanne Prevett Teams event in Matamata with almost everybody dressing up!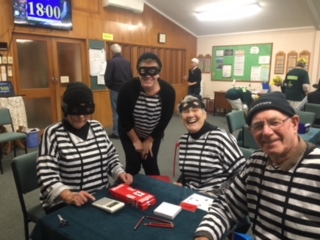 Burglar Team: From left Dale Swap, Anna Kalma (subbing in for brother Guy), Mum Hemmes and Henk Hemmes
Top handicap team was the Burglars.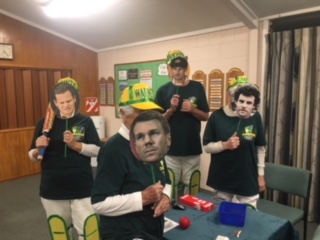 Best costume
Best costume: The cheater unveiled - Lynette Morgan, Zelda Clements, Ian Bond and Sonia Crawford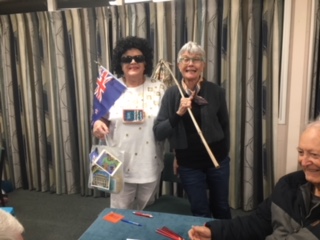 Top scratch team: Only Lesley and Heather deserved a photo as the male members failed to dress for the ocassion!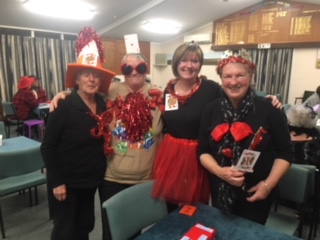 Joanne, Judith, Margaret and Anne: looked lovely but I can't remember the name of their team!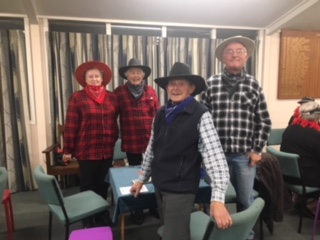 Cowboys: Joan, Barbara, Tony and John were the cowboys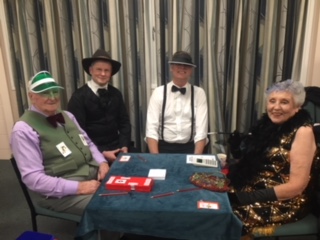 Gamblers: George, Malcolm, Peter and Laurie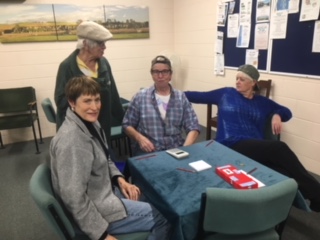 Laid backs?: Helen, Michelle, Beth and Lynn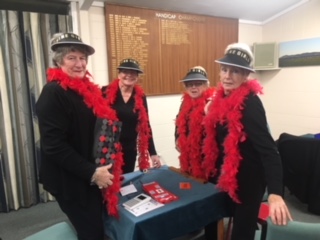 The Wine Girls: The wine girls of Jill, Michelle, Elaine and June were clearly just in it to have fun!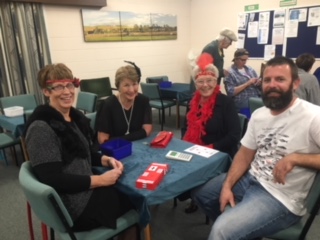 Three ladies and a gent: Diann, Elsie, Maeleen had gone to some trouble!
We have an updated result for the Joanne Prevett Teams which can be accessed via the results page … into the last week we see the Kalma-Hemmes-Swap team heading the charge.
And in the meantime in Morrinsville there was an 8B tournament held. Morrinsville put on a great day with 21 tables competing with loads of Matamata and Te Aroha members.
Well done to Anna Kalma and Noel Grigg who won the event with an average of 65%. While Lesley Quilty and Sonia Crawford came in third.
Adri Rigter and Laurie Belfield also performed admirably coming 2nd in the morning session and winning the top Junior Restricted pair while Morrinsville's Linda Fawcett and Robyn Gee were top Junior pair.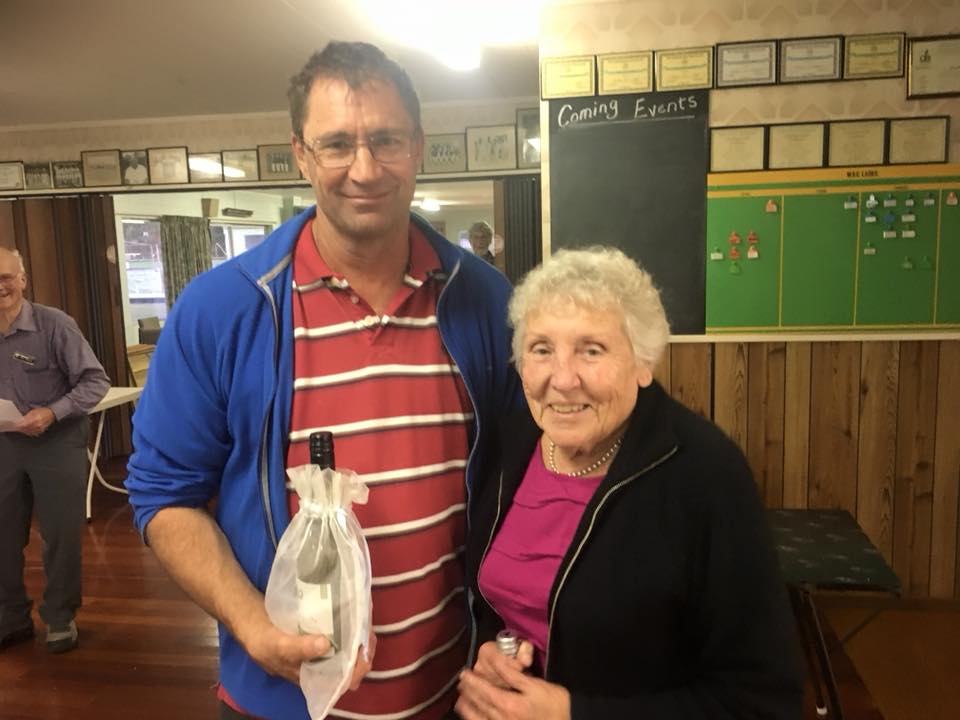 Adri and Laurie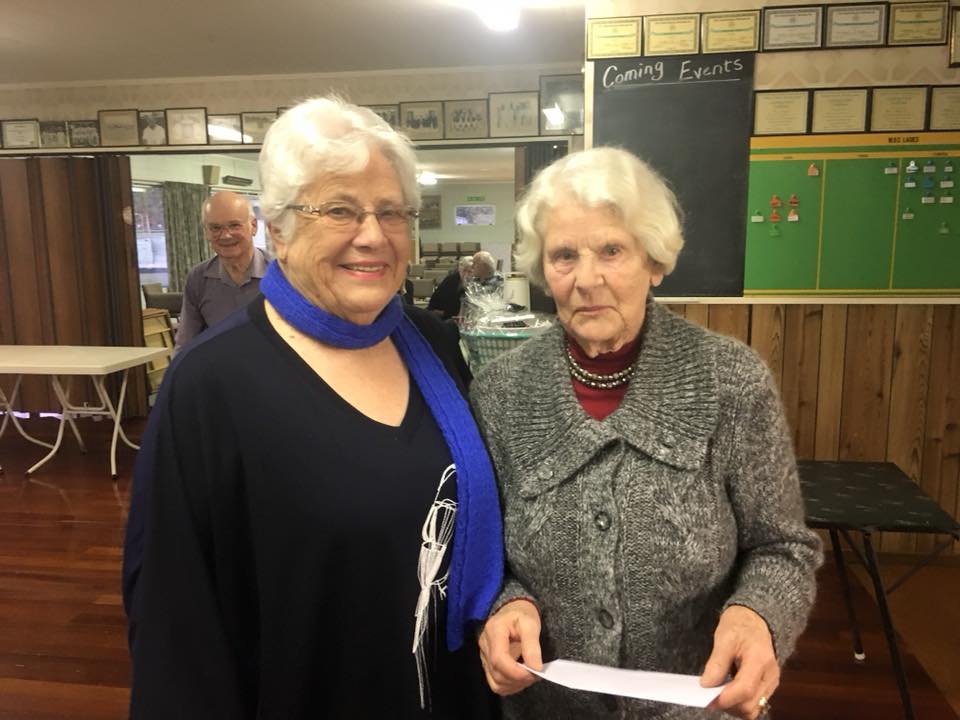 Lesley and Sonia
Matamata hosted the 4th heat of the Waikato Area Pairs with 13 tables braving the weather.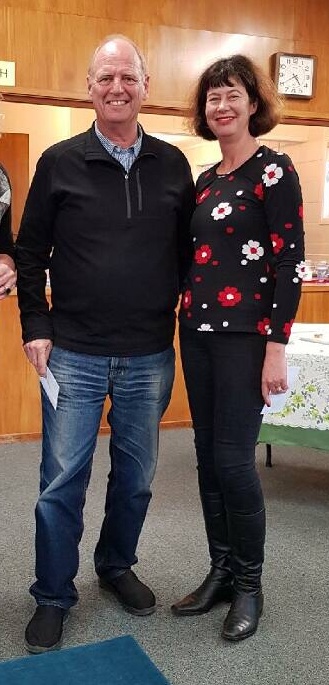 Kevin and Clare
Best in the room was Cambridge pair Kevin Whyte and Clare Coles.
Best of the Matamata bunch was Lesley Quilty and Sonia Crawford who came 5th overall.
Ken Yule received the specially embossed Gold Grand Master Certificate from NZ Bridge last week - even though it has been a couple of months since he cracked the 4000 A&B points required to achieve this rank.
It is a remarkable achievement with only 29 current Gold Grand Masters in New Zealand - the highest rank attainable in the NZ Bridge scene.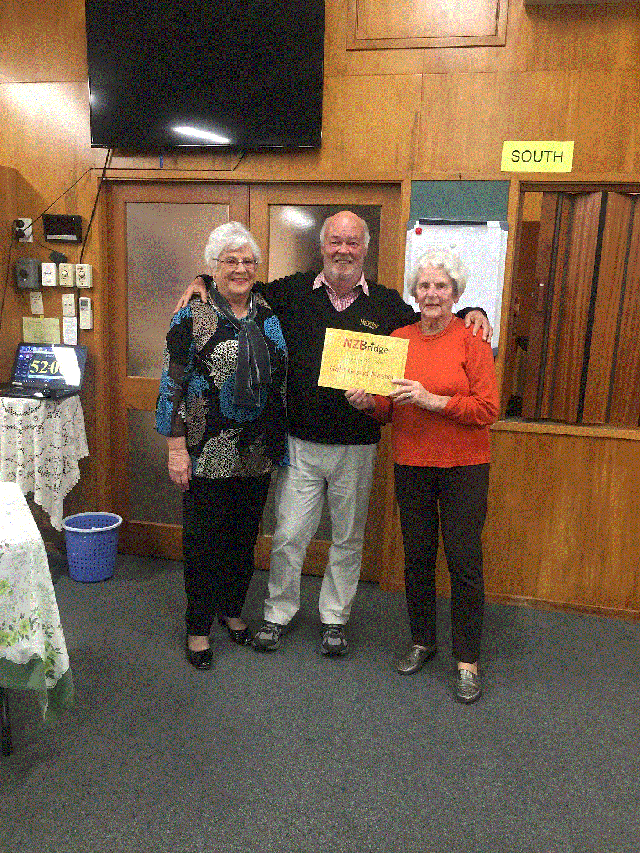 Ken Yule: Ken Yule flanked by the grand dames of Matamata bridge club - Lesley Quilty (left) and Sonia Crawford (right)