---
Ian Bond is Matamata's latest Grand Master - Ian reached the lofty heights during Congress where his team won the back to the future and then placed 17th (missing out by just one place to get into the play-offs) but doing enough to earn around 25 A points for his week which pushed him past the 1000 points required to earn this title (of which 500 must be A points).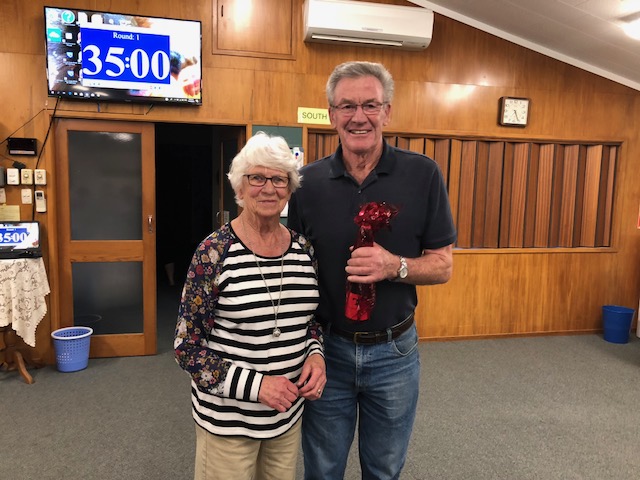 Ian Bond: Ian congratulated by president Beth Vosper
Ian followed his partner (in life, crime and at the bridge table) Lynette who got to GM status earlier in the year. The other Matamata grand masters are Ken and Kathy Yule and Lesley Quilty. Out of all the affiliated bridge players in New Zealand less than 2% achieve the rank of GM or higher.
Awesome work Ian:)
More competition success at the National Congress for our players.
The National Pairs continued after the knockout stages with Kathy and Ken Yule making the cut then performing brilliantly to come 4th overall ... an outstanding achievement out of 144 pairs.
In the meantime, non qualifiers contested a back to the futures event where a team of four plays three sessions with each of the other members of the team. The local team of Lynette Morgan-Ian Bond-Lesley Quilty and Anna Kalma managed to make it inot the final and suprised themselves by winning the final session to come top overall.
The major event of the tournament is the Teams where 108 teams of 4 started the contest. The best of our locals was Kathy and Ken's team who made it through into the top 16 qualifiers and have since won their match meaning to make it into the top 8 but were knocked out in the quarter finals.
Unlucky to miss out on the top 16 was team MORGAN - Lynette, Ian Bond, Mike Neels and Ella Gray. They ended up in 17th but that gave Ian the requisite 25+ A points he required to take him into GrandMaster territory. AWESOME WORK IAN - apparently they celebrated with a Thai in Cambridge on Wednesday Night but I'm sure they will be recognised properly in due course!
Thursday while the knockouts of the Teams takes place the competitions continue with the Mixed, Intermediate, Same Sex and Senior Pairs being played. There was a good morning session for Judith Howard and Joanne Swanwick in the Intermediate who take pole position but faded a bit in the afternoon to end up in 10th while Rochelle van Heuven and Tim Rigter had two solid sessions to come in 7th.
Lesley and Tom Henwood won the morning session in the Senior Pairs but fell back a bit to end up in a credible 9th place.
All eyes on the Teams quarter finals, and the senior, intermediate teams tomorrow where we hope to enjoy further success:)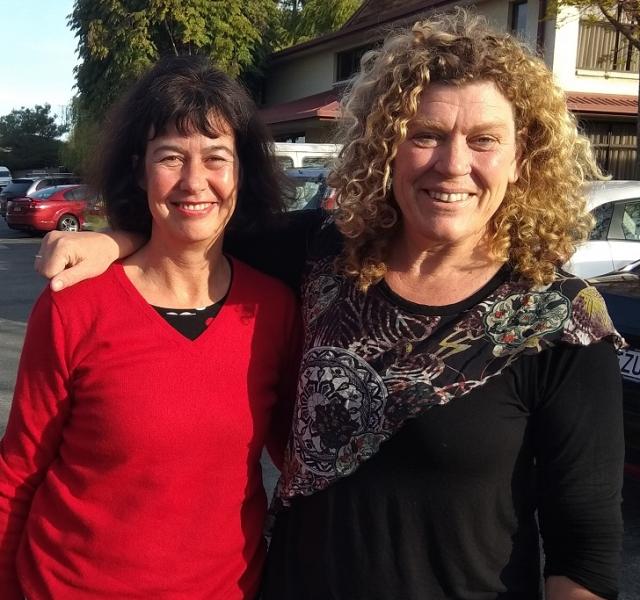 Clare and Anna
Congratulations to Anna and partner Clare Coles from Cambridge who had only their second outing playing together at National Congress this weekend. They finished in third place in the NZ Restricted Pairs. A fantastic result!
The final night of the Saxon Teams finished with the Senegal team with an unbeaten record (consisting of Anna Kalma, John Phillips, Shirley Bailey and Adri Rigter).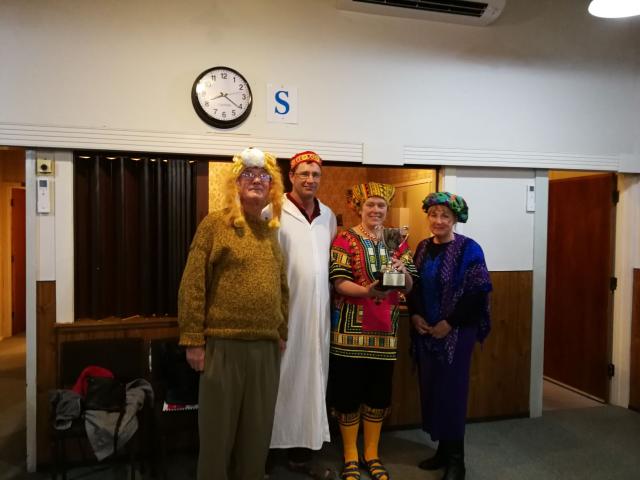 Senegal
The winner of the ironique vouchers for best dressed teams was Syrian team complete with refugees, dictators and a lovely carrot cake decorated with live ammunition!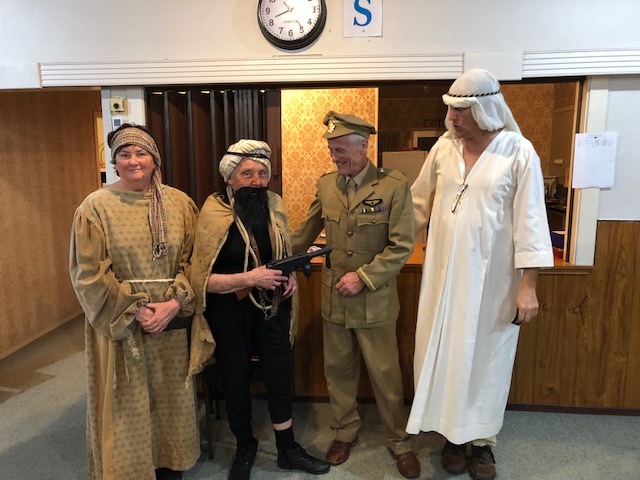 Syria
Highly commended in the costume stakes was Saudi Arabia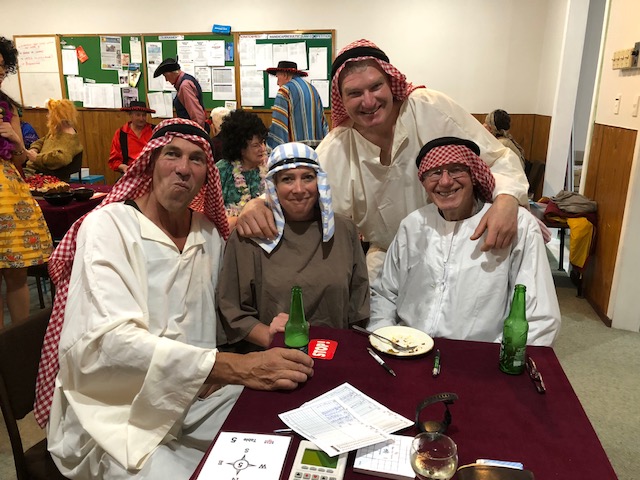 Saudi Arabia
Alongside the Sheila's from Stralia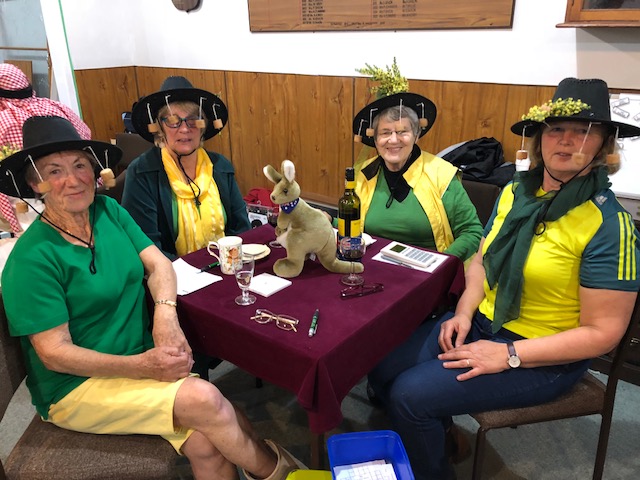 Stralia
Other winners on the night included the "pull up your socks team" who won a pair of bridge socks from Samoa.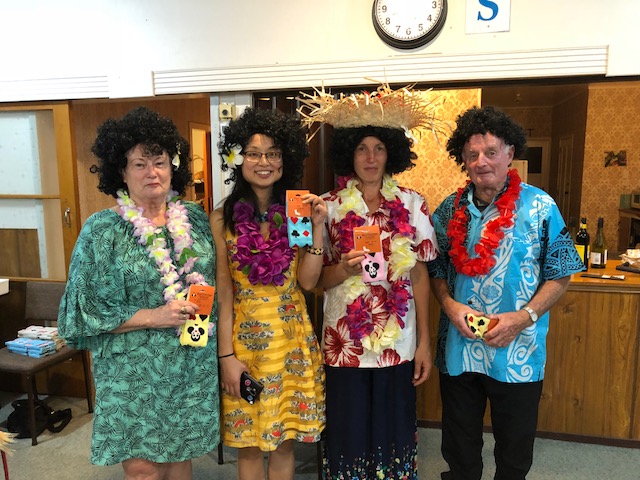 Samoa
The Spainish team was 2nd in the actual bridge competition...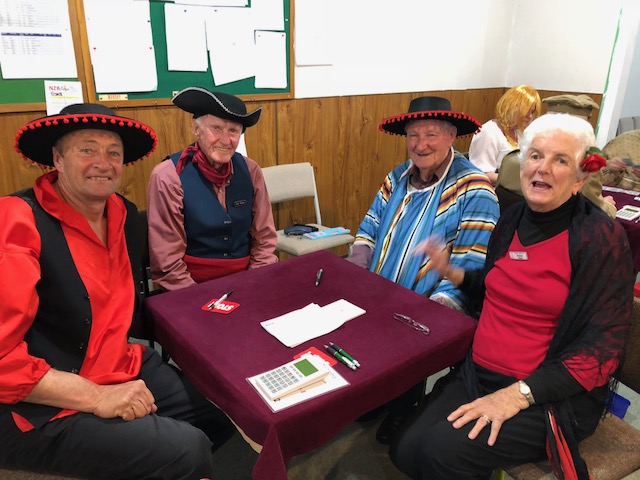 Spain
The night finished off with a few boards of crazy bridge which was played as an individual with each even numbered board having a different instruction ... "Don't bother bidding ... this board MUST be played in 7NT by West" ... "No dummies this hand" ... "If the bidding reaches the 4 level - North has to play it in 4H" ... "only look at 3 cards until after the bidding has finished". Well done to Laurie Belfield who won the individual scratch while Diane Jager was top in the handicap results!
Congratulations to Graeme Farrow and Willy Ryder of Tokoroa who came and conquered at the Matamata Intermediate amongst a strong field of 18 tables.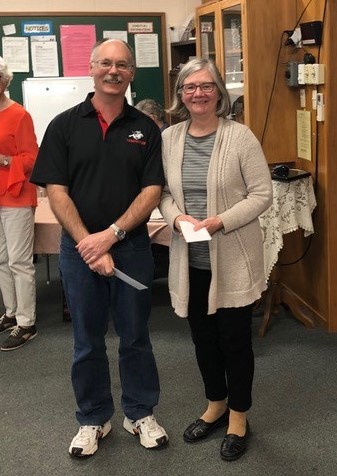 Graeme and Willy
It was a good day to be called Graeme with the second place getters being John Little and Graeme Saunders from Waikato club (who also won the tournament a year ago if my memory serves me correctly!)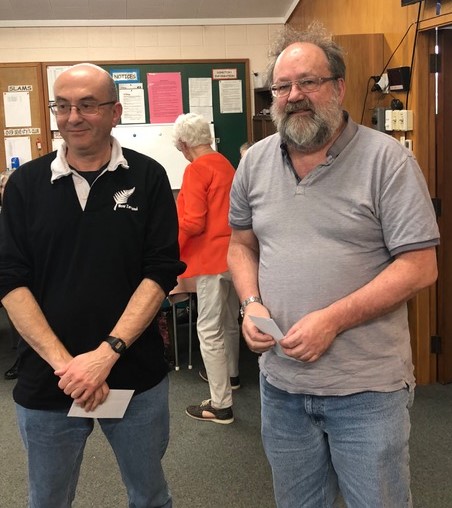 Graeme and John
While in third place and the best of the locals was Judith Howard and Joanne Swanwick.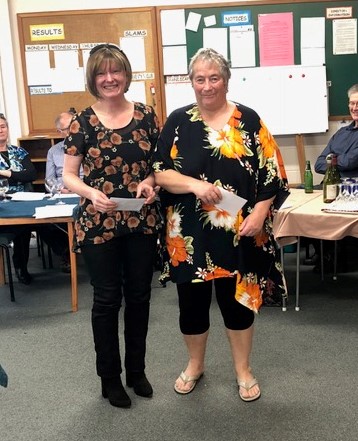 Joanne and Judith
The event was the penultimate event for the Intermediate league and after 8 events things couldn't get closer with the prizes to be decided at the last event in Cambridge next month. In top place is Malcolm Kirkby from Te Aroha who shares the spot with Eunice Eccles.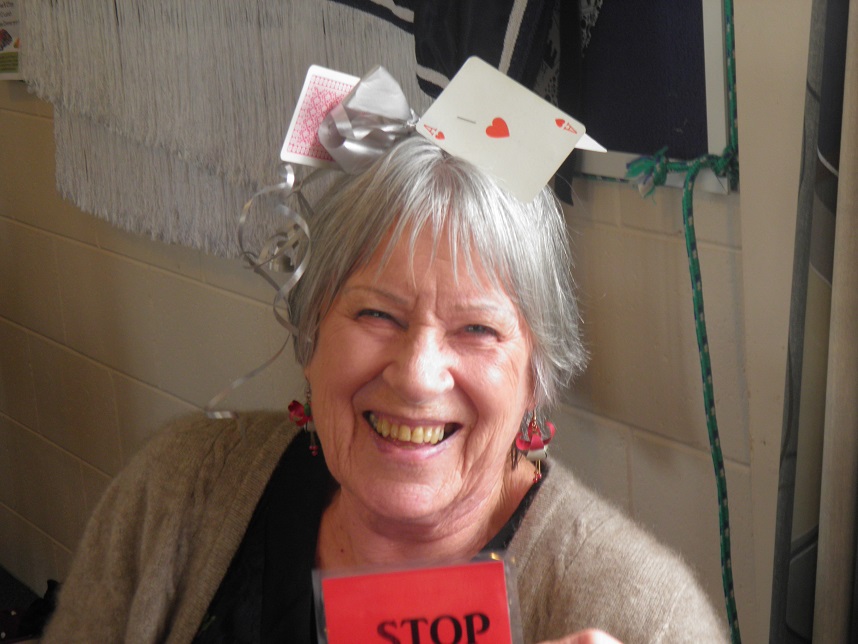 Joyce Catchpole
We were sad to receive news about the death of Joyce Catchpole following a long illness this week.
Joyce was a great member of the Matamata club for many years until moving to Cambridge in recent time.
She was a career educator and administrator which made Joyce the ideal choice for running the lessons at Matamata for several years. She was always great fun, loved her bridge and played at several clubs and was often called upon to direct junior tournaments.
Another one that will be sorely missed at the bridge table.
The committee is currently reviewing the competitions and club sessions for next year and looks forward to receiving feedback from members for ideas or to make changes to the 2019 programme.
Let us know via matamatabridge@gmail.com or talk to Beth or one of the committee members.
The AGM is too late to amend the programme and book so encourage you to give us feedback over the next few weeks
It was a great night last Thursday at the Matamata Bridge club as we turned our annual fundraising efforts towards raising money for a charitable cause … this one was for Motor Neurone Disease which claimed our past President, Jan Wills.
Thanks to everybody's generosity and effort in supporting this event which raised a fantastic $1183.
Another event for the Junior and Intermediate players to put in your diary ... the Matamata Intermediate Tournament to be held on Sunday 16th September at our clubrooms.
Cost is $20 and includes morning tea and after match nibbles (BYO Lunch!). Entry via the NZ Bridge website and we encourage our locals to find a partner and pair up for this event on their doorstep. Entry via the following link: http://www.nzbridge.co.nz/events,listing,2867,matamata-intermediate-pair...
Matamata Bridge club invites members and visitors along to their annual Benefit Night. Lovely supper, bridge and raffles.
This year, the beneficiary will be the Motor Neurone Association in memory of Jan Wills, our immediate past president who passed away from this terrible illness earlier this year.
Cost is $7 table money. Please be seated by 7.15pm for a 7.130pm start.
Visitors: You can of course just come along ... but we would appreciate an approximate idea of numbers for catering purposes. Please rsvp to matamatabridge@gmail.com
There was a decent turnout of 16 tables at the sixth heat of the WAP.
Morrinsville did itself proud again as the host. Scoring went well, good food and it was the best place to spend a wet and rainy Sunday. This heat is the best value which culminated with Pizzas and wine/beer.
On the day locals Noel Grigg and Anna Kalma came 2nd just behind Kate McFadgyn and Gwynn Lobb.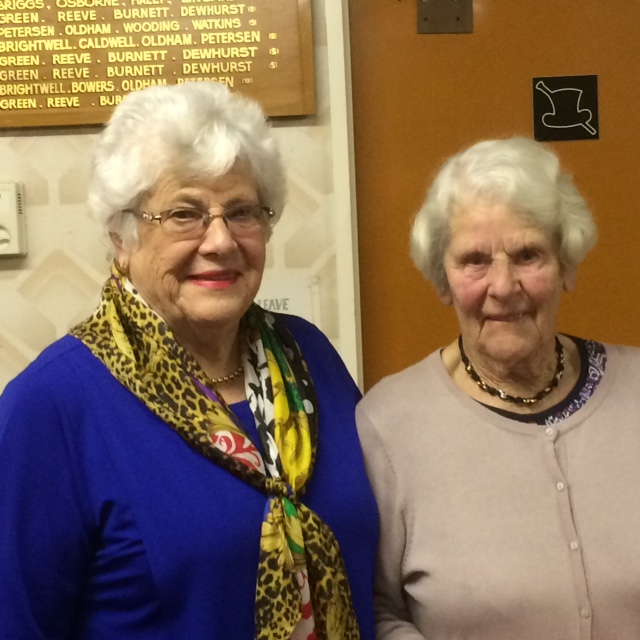 Lesley and Sonia
But the overall victors who survived 12 sessions of bridge over the past 6 months and were well deserved with Lesley Quilty and Sonia Crawford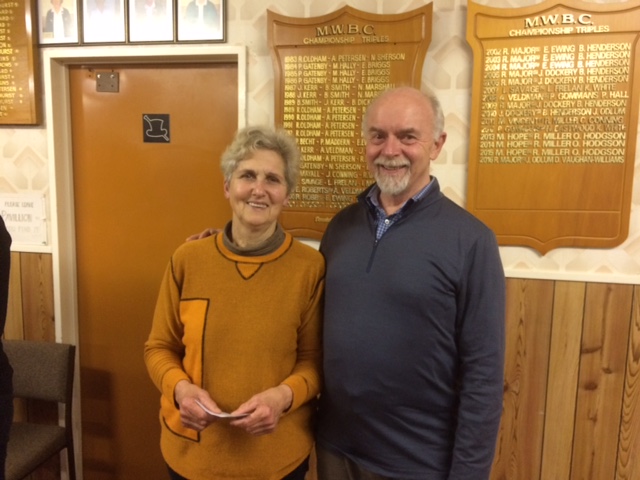 Ella and Michael
In second place were Michael Neels and Ella Gray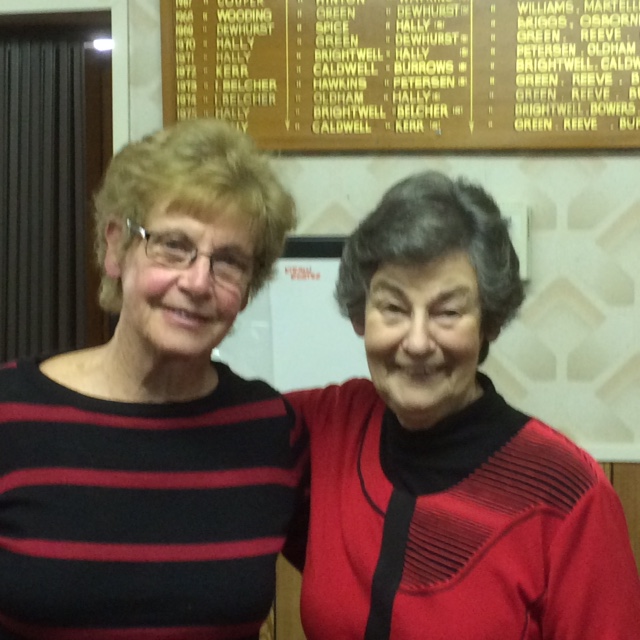 Mary and Olive
Third place were the perennial bridesmaids MAry Ronke and Olive Davis.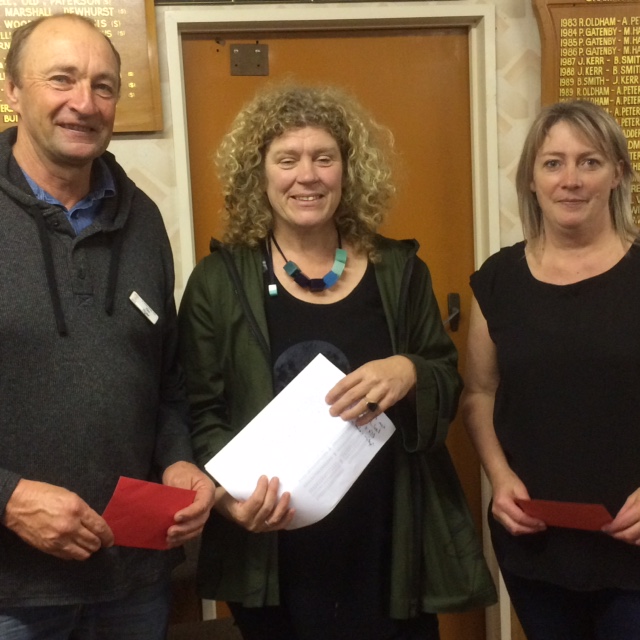 Tim and Rochelle
While the best of the non-open players were Tim Rigter and Rochelle van Heuven from Te Aroha who are pictured flanking the WAP manager Anna Kalma