---
The Te Aroha bridge club contingent had a solid win at the Gold Coast Congress...unfortunately not for their bridge (although they are lying in the top 10 in their teams comp with another day to play).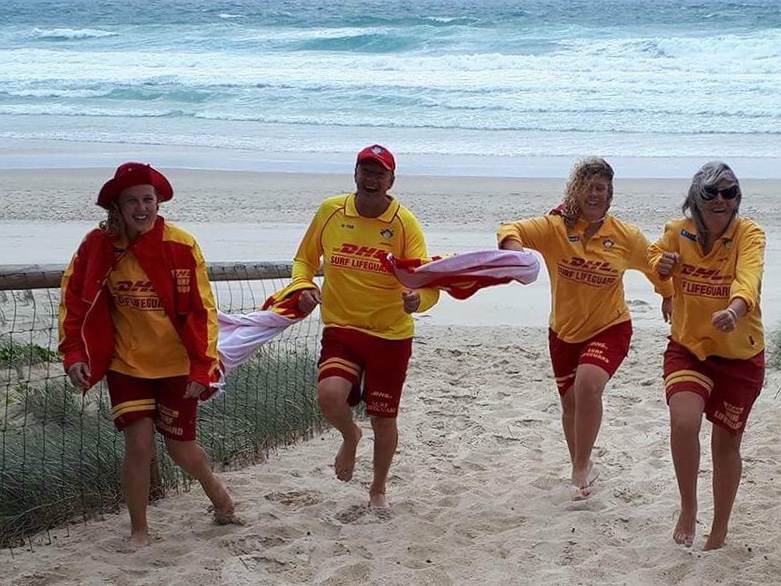 Te aroha gold coast team: The Winning team in action
They won the Australiana dress up comp ...ironically the top three spots were won by nz teams!?
The win for the Yule team at Christchurch over the weekend gave Ken Yule the masterpoints required to achieve Gold Grand Master status.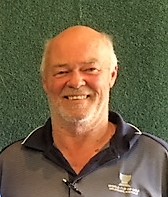 Kenneth Yule
This is the highest rank available to any New Zealand player and Ken joins a select group of just 25 others to hold this rank in New Zealand.
To achieve Gold GM rank - Ken was required to rack up 4000 masterpoints (A & B points) of which a minimum of 2500 had to be A points. Ironically it wasn't the A points holding Ken back as he has got nearly 2900 of these following the weekend success.
While the new ranking won't become official until after the next quarter rolls around when NZ Bridge send out new ranking certificates, we all join together in congratulating Ken on achieving this awesome milestone.
Congratulations Kathy and Ken Yule who along with Grant Jarvis and Jan Alabaster, were the winners of the two day South Island Teams held over the weekend in Christchurch. A 20A event, this attracted all the big names of bridge from across New Zealand.
The Yule team had just one loss from their 8 matches and held the top spot (or close to it) for most of the weekend. They ended up with a very comfortable win by 12 Victory Points (or VPS) with 120 VPs total (or a good old fashioned walloping as one commentator called it!)
Meanwhile all those unable to travel to South Island made do with a day out at Cambridge to contest the first of the Waikato Area Pairs. A great field of 21 tables turned up with the top pair being Jenna and Christine Gibbons of Waikato/Te Puke.
We also had some good local successes with Sonia Crawford and Lesley Quilty winning the morning session and coming fourth overall. Anna and Jacob Kalma came 9th and Tim Rigter and Rochelle van Heuven had a great afternoon session to take 14th spot.
Congratulations to Kathy Yule who featured on the leaderboard of the Baden Wilson Trophy.
The Baden Wilson is a ranking of the top A point earners in a calendar year (not including any A points earned overseas). Kathy came in at 14th place in the female list showing up a very respectable 119 A points earned over the year.
There was also a release of all the new rankings recently (due to a few gremlins in the system these were a bit later than usual).
There was a good amount of Te Aroha and Matamata players who moved up the rankings from 2017:
Jacob Kalma (open)
Malcolm Kirkby (intermediate)
Charlotte Jager (intermediate)
Peter Daffurn (intermediate)
John Phillips (intermediate)
Jan Baker (intermediate)
Victor Kooter (intermediate)
The new rankings show how the clubs are growing in strength and indicative of the success of these players at tournaments and club sessions. Special congratulations go to Charlotte and Malcolm who achieved Intermediate status after only two full years from learning the game.
Richard Solomon came to Te Aroha to impart some of his vast knowledge on a group of 20 Te Aroha bridge members.
The topics were splinters and cue bidding and was a mix of tuition, quizzes and play (oh and a very nice supper!).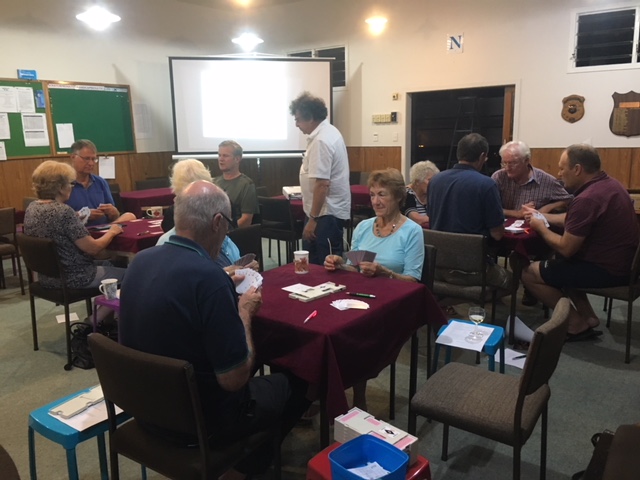 richard's workshop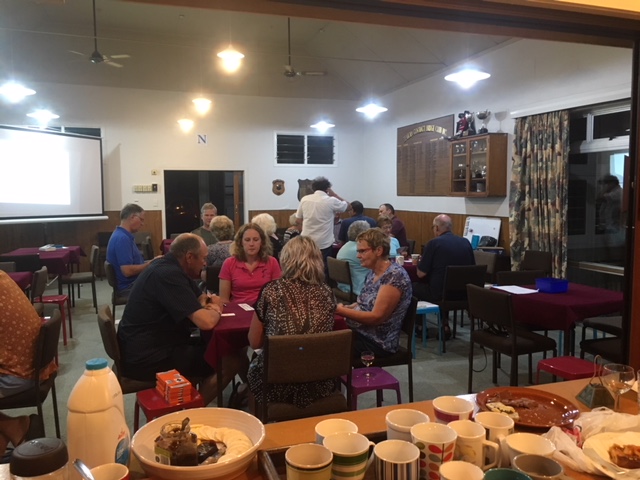 Richard's workshop
We are looking forward to putting theory into practice in club sessions and I put the challenge to those who attended to show how you put any of the cue bids or splinters into practice and a reward may well be forthcoming!!
Please note that Wednesday Bridge is back to normal start time of 10.30am from next week (ie the 7th February) ... and remember that the Bridge Club is the coolest place to be this summer (excuse the pun) but if you are inclined to feel the cold in an airconditioned room - remember to bring an extra layer!
Tauranga hosted the Waikato Bays Congress over the anniversary weekend that drew competitors from Northland to Invercargill.
After the first day of the teams on Sunday, Kathy Yule and her team headed the field in first place from 33 teams with the top four team going into a head to head final the next day. They had a strong run with 5/6 wins from the day with their only loss being against our other locals in the Quilty Team with Lesley Quilty and Sonia Crawford teaming up with BOP pair Tom Winiata and Tom Henwood who also ended the day with 5 wins from six.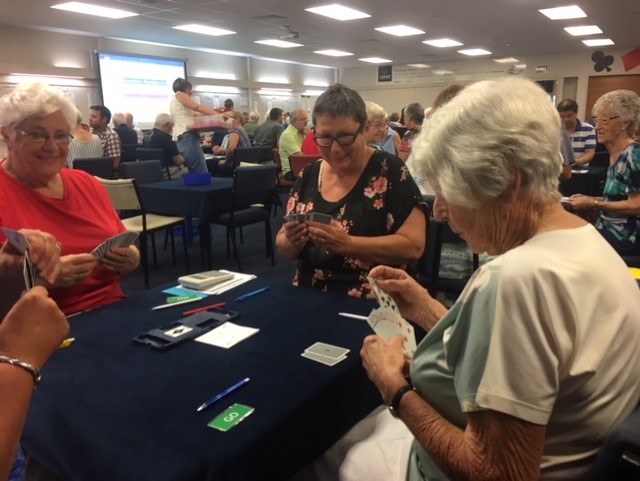 Matamata girls battle it out in the Teams final: Kathy up against Sonia and Lesley at the start of the final of the Tauranga Teams
It was a tight competition going into the final round of four with each team posting at least one loss. In the end it was the Hamilton/Auckland team Foidl (Gary Foidl, Yuzhong Chen, Hank Ping and Jeffrey Luh) who won the event with team Quilty in second and Kathy's in fourth place.
Brilliant results for our doyennes of bridge from Matamata:)
Te Aroha are fortunate to have Richard Solomon, Gold Grandmaster and NZ Bridge Development Officer, coming to Te Aroha on Friday 2nd February at 7.00pm to provide an evening of instruction and play for members and other interested persons to attend.
It is being pitched to intermediate/new open level. The topics he will be covering will include;
- splinters (how to show shortages in a slam try situation)
- cue bidding (when to do it and what does it mean?)
- bidding the opposition suit (when to do it and what does it mean?)
The room was a bit crowded last year so we will be restricting numbers this year ... and priority will be given to Te Aroha members. So let Anna know if you are keen to attend (or if you want to be put on the waiting list for non members).
Cost is free to Te Aroha members and $5 to non members.
Matamata Bridge club kicks off in the New Year with holiday bridge commencing Wednesday 11th January at 1pm .
Thursday night bridge starts on the 12th January for a 7.30pm start.
Te Aroha opens for bridge on Friday the 5th at 11.30am .
Hope you all had a great Xmas and New Years and looking forward to see you in 2018.
Matamata Bridge Club lost its Patron and a treasured member and friend with the passing of Sadie Swap on Tuesday 12th December. She has lived an incredible life and would have celebrated her 104th birthday in January.
The club extends their sympathies to David and Dale and the rest of the Swap family for their loss.
A couple of photos on file caught her at the bridge club in her latter years ... She was still a regular at the bridge club in her late 90's and was very independent driving herself around town and living in her townhouse until the last few years. Her friends agree that she was great fun and a social butterfly.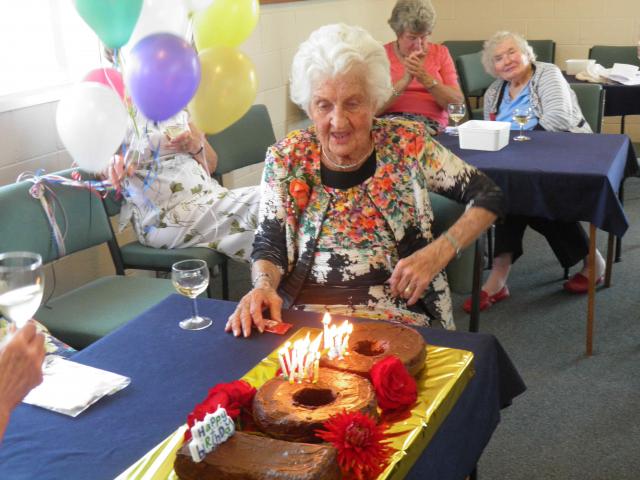 Sadie turns 100: Sadie at her 100th Birthday Party at the bridge club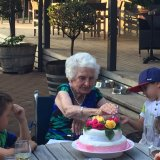 Sadie hits 102: Sadie celebrates her 102nd birthday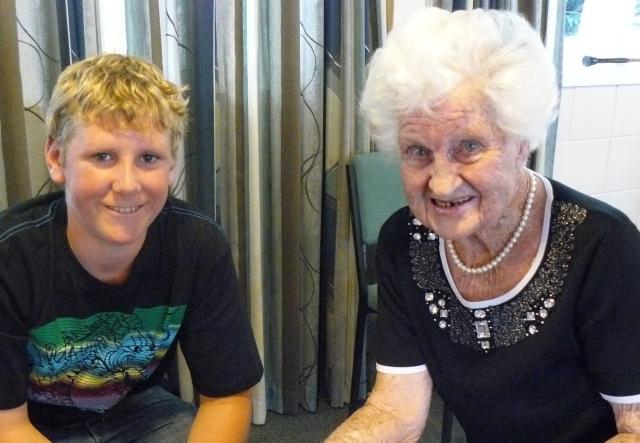 Jacob and Sadie: Te Aroha local JAcob Kalma (14) and Sadie Swap (98) teamed up for a winning session at the recent Matamata Christmas Party.