Lesley Quilty - Matamata Life Member
---
Lesley Quilty was deservedly given life membership at the Matamata Bridge Club at the prizegiving recently.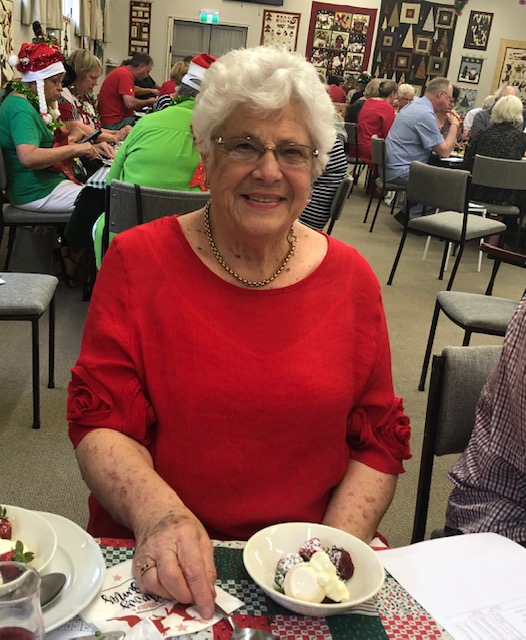 Lesley Quilty
The following chronicles her work and history with the club and the game of bridge in the region.
Lesley joined the Matamata Bridge Club in 1970 after attending lessons. Within 2 years she won her first Open Championship. Over the years she has won many tournaments including the New Zealand Women's Pairs in 1995 and 1996 and The New Zealand Senior Teams to name but a few.
Lesley has represented Waikato in the New Zealand Women's Interprovincial Championships with both Sonia Crawford and Desma
Dickinson, indeed winning the event once with Sonia.
She became Matamata's first Grandmaster in 2008.
From an early stage Lesley became involved in club matters and for
many years did the scoring on Monday Nights. Scoring in the past was done without the aid of computers and calculators and was an extremely skilled task.
Lesley was Club President when our clubrooms were extended. She and husband Jim donated a very generous sum to this project and her keen administrative skills ensured an extremely successful outcome.
Lesley has served on the Matamata Committee for most of her playing career in addition to representing our club and the wider Bridge playing community on the Waikato/Bays Centre for many years, only stepping down recently.
Her donation of the Quilty Tray promoting teams events is a legacy for club members and visitors from the Waikato to enjoy.
Lesley and Sonia offered improver lessons and she has always been willing to help members improve and develop their bidding and playing techniques.
Lesley's deep freeze must be bottomless. On every occasion when catering is required the first person to offer has always been Lesley. Crockpots full of soup, slices and savouries are appreciated by everyone.
Her name is synonymous with Matamata - when you say you belong to Matamata people straight away connect with Lesley's name.
In recognition of outstanding service and commitment over many years, the Committee has great pleasure in nominating Mrs Lesley Quilty for Life Membership of The Matamata Bridge Club.
The motion is seconded by Mrs Sonia Crawford.
28 November 2019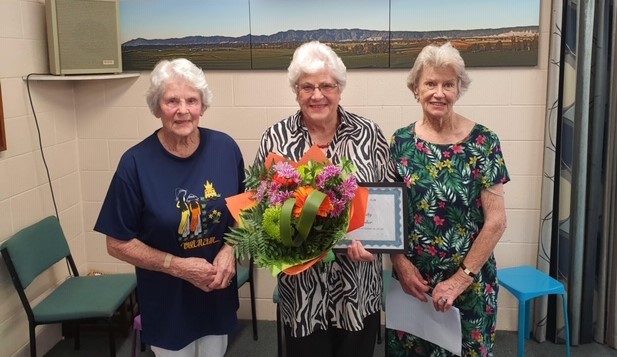 Life Members
Well done Lesley - here she is with the two other life members of the club Sonia Crawford and Ann Ring.