Christmas and other celebrations
---
At Matamata's AGM and prizegiving there was a few special people recognised for their outstanding service and performance to bridge.
Kathy received official recognition of her achievement by reaching Gold Grand Master status a couple of months ago when awarded her gold plaque that will likely hang proudly next to Kens. There are just 40 Gold Grand Masters in New Zealand and just 7 of these are women. Well done Kathy!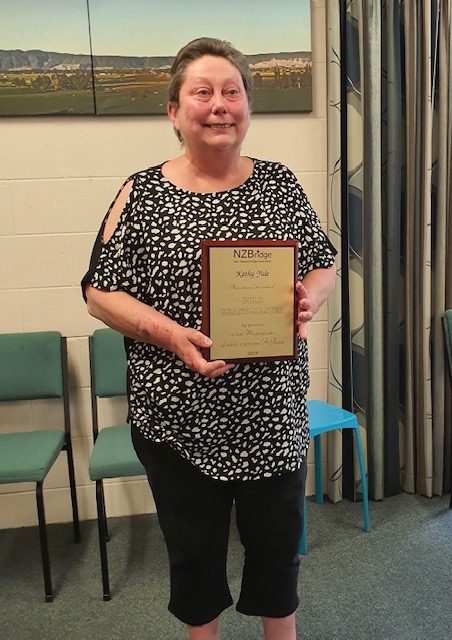 Kathy gets her gold plaque
And joining an even more exclusive group was Lesley Quilty who became Matamata's life member joining Ann Ring and Sonia Crawford. Lesley has been active in the club and Waikato Bays in a number of roles over the many many years she has played bridge. Great to see her service recognised.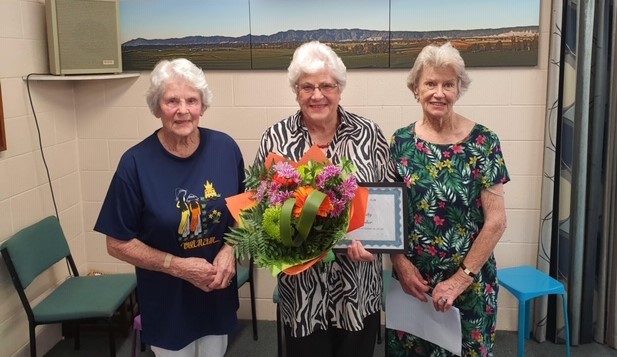 Life Members
Also Christmas Parties coming up:
MATAMATA CHRISTMAS CHEER
Wednesday 4 December
Finger food for a shared lunch.
$5 optional Gift exchange.
Wear Christmassy colours.
THURSDAY 12 December
Xmas Party
Pot luck dinner 6pm
Partners welcome. Please indicate on list in Clubrooms number attending so we can set the appropriate number of places at the table.
Dinner will be followed by prizegiving and Bridge for those who wish to stay.
Again wear Xmas Colours.
TE AROHA
Tuesday Night the 3rd December.
5.30 drinks followed by prizegiving, dinner and then bridge. Welcome all full and associate members and those who have helped out during the year to fill tables!
Members - Bring a plate (but discuss with Laurie to ascertain whether vegetable, salad or dessert!)