---
Well done to Joanne Swanwick and Judith Howard who prevailed in the Waikato Bays Intermediate League to top the field and take home their share of the $1080 dollars on offer.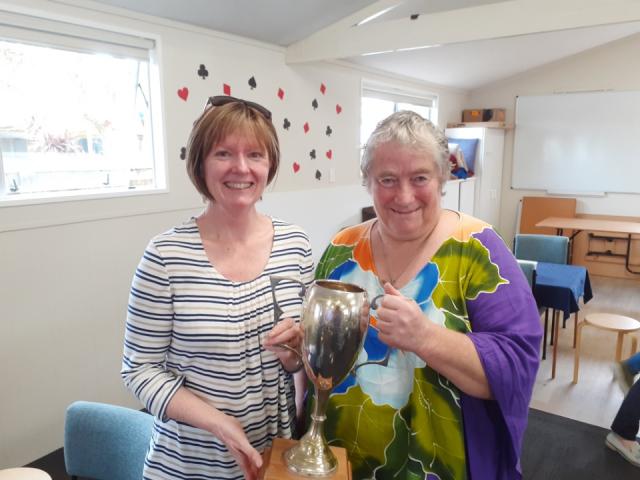 Joanne and Judith
They had a nervous wait to see whether their 8th place overall in the 8th event of the league at Cambridge was enough to seal victory over their rivals Carol Crowfoot and Sabrina Peters from Cambridge which they did in the end.
Talking about Carol Crowfoot and the Thames club, this week also saw the culmination the Gilligan Barclay Cup which is 4 session interclub played in March and October.
After four years of being bridesmaids (or thereabouts), Tim Rigter and Anna Kalma saw that Te Aroha retained the cup with a less than emphatic 46% in the last session. Luckily they had started the year with a bang and had notched up a couple of 68% which gave them enough of a buffer to keep the pack (ie Rochelle van Heuven and Hermanna Hemmes) at bay.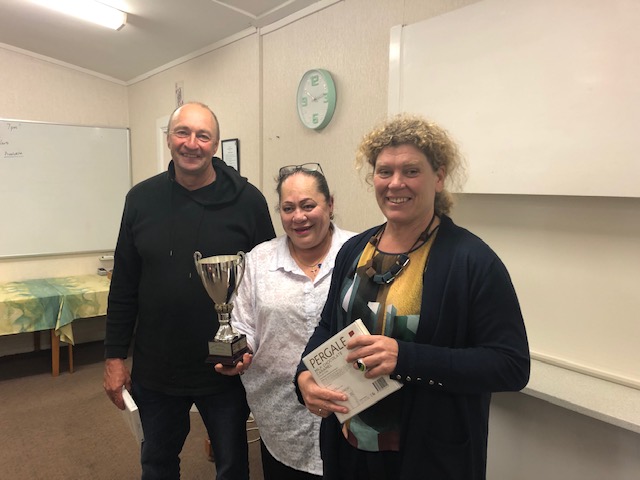 Tim Carol and Anna
And it was the birthday that kept on giving … even though Anna had been celebrating for a good few days (which may have accounted for her less than stellar score in Thames). She was presented with a beautiful birthday cake at supper to celebrate her half century. She was most chuffed and thanks to Katrina who produced it.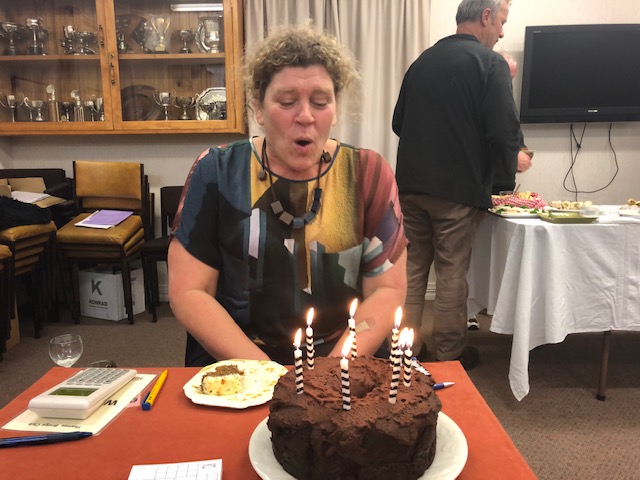 anna's cake
Stop press!!
Matamata has decided to host a heat of the New Zealand Wide Pairs on Friday the 1st November starting at 7.15pm sharp.
Cost is $12 per player.
The event is run simultaneously around the country at approximately 60 clubs. At the end of the session you receive an excellent booklet which summarises the 24 boards that you played and gives you expert analysis and advice on the best and (possible) worst scenarios that you might have encountered.
A points are also up for grab: top at the club (after scores have been cross scored against all the others) will get an A point each. Then there are A points awarded for podium winners in the region and more if you are able to attain a top spot across the nation!
For those not chasing glory … there is the feelgood factor that all
proceeds from the night go towards assisting with New Zealand's Youth programme.
Register your entry via the nzbridge website - or email matamatabridge@gmail.com
Great achievement by Kathy Yule to become a Gold Grand Master during the NZ Bridge Congress being held in Hamilton this week and joining her husband Ken who achieved the ranking a year ago.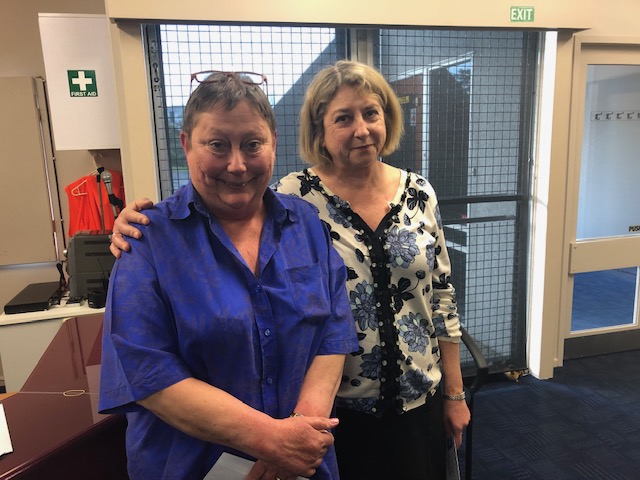 Kathy GGM
Kathy pictured with her good friend Jo Simpson
The rank of Gold Grand Master is rare … only 30 others in New Zealand have reached the rank … it requires 4000 rating points of which 2500 have to be A points. With Kathy's recent illness she was doubtful she would ever get to GGM but some investigation by Noel Grigg found she was missing a heap of historical A points that should have been awarded when she was competing in Australia that has a a reciprocal masterpoint programme. Well done Kathy - we are proud of you!
In other Congress News …
We've had a week of bridge and it was great to see club members rock up to play during the week with varying amounts of success.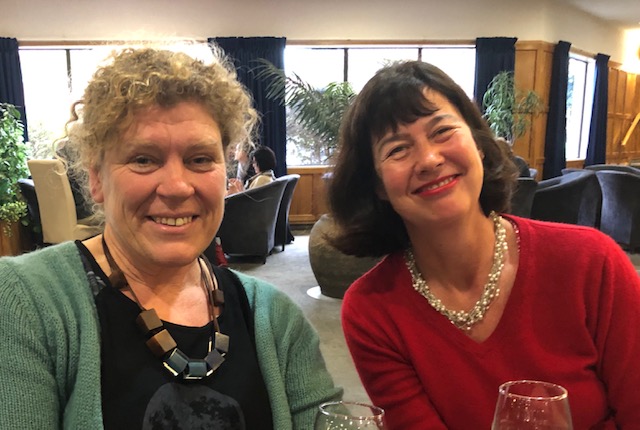 Anna and Clare
Anna Kalma partnered with Clare Coles from Cambridge and were 2nd in the Open Restricted Pairs at the start of the week. At the end of the competition they were lying 3rd but discovered a scoring error that put them into 2nd at the expense of Auckland pair KC Lee and John Craig … funny thing was that a year ago Anna and Clare ended up second after play in the same competiton but discovered a scoring error which relegated them to third … and guess who? KC Lee and John Craig from Auckland were bumped up to second!
Kathy and Ken Yule made the cut for the New Zealand pairs finishing 24th out of 150 pairs but failed to progress further.
Great to see Colin Le Quesne and Joy Williams tackle the Novice Event on Sunday afternoon and finish in second place.
Then onto the big event of the week which is the Teams which was being played in the Open and the Open Restricted divisions. Kathy and Ken (along with their friends Jo and Sam Simpson and Steph Jacob and Rebecca Wood) finished 28 out of 100 teams while in the Open Restricted Anna Kalma (playing with Melanie Rex, Graeme Reid and Di Emms from Tauranga and Cambridge) finished in 4th place.
The next notable event that featured local players was the multigrade where Anna Kalma, Lesley Quilty, Lynette Morgan and Ian Bond combined to finish 7th overall.
Finally the Junior and Intermediate Swiss Pairs and again great to see a few more members venture out for the final days.
Well done Colin Le Quesne and John Krukerink who finished midfield in the Junior Pairs after only learning this year.
Judith Howard and Joanne Swanwick combined to do well in the ntermediate Swiss Pairs finishing up in 11th place while Anna Kalma and Hermanna Hemmes ended up in 10th place in the Open Restricted.
A whole heap of bridge was had this week. Hope those that took part enjoyed the experience and look forward to seeing more members at the event next year!
Kathy and Ken Yule travelled across to Australia this week to compete at the Coffs Harbour Congress in NSW.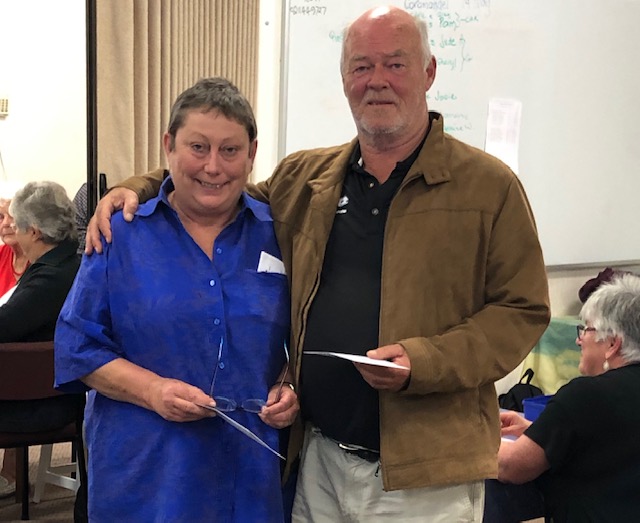 Kathy and Ken]
They won the Swiss Pairs competition in front of 126 other pairs in style - taking first place after the first match and winning their remaining 7 matches to take the top prize and $2000 prize money. Their last opponents were their team mates for the next competition GeO Tislevoll and Joan Butts (Geo is in the New Zealand Open team and Joan is a prominent Australian player and teacher). The team had a good start but faded to 7th after 8 rounds of matches ... still a good result in a strong field.
You can read about their repeat victory (they also won it back in 2013) and a few of their tricky hands in the bulletin the day after their Swiss victory:
http://www.abfevents.com.au/events/results/2019/ccg/bulletins/03_August_...
In the meantime, Judith and Joanne continue their winning ways in the intermediate division showing the reason they have been selected for the Waikato Bays IP team. This time winning the Te Awamutu Intermediate in the weekend topping both sessions with 60% and also claiming top spot on the Intermediate League after 6 events.
Looking forward to seeing what the home ground advantage offers them in the Matamata Intermediate coming up in September!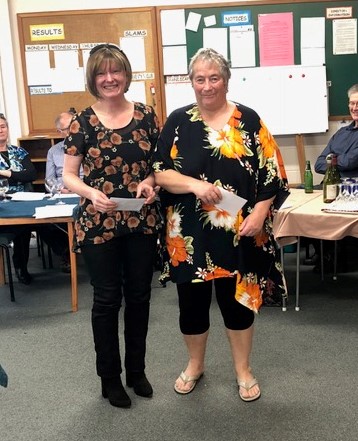 Joanne and Judith
Well done those who competed at the Cambridge 6s event held last weekend. Big day out and lots of fun.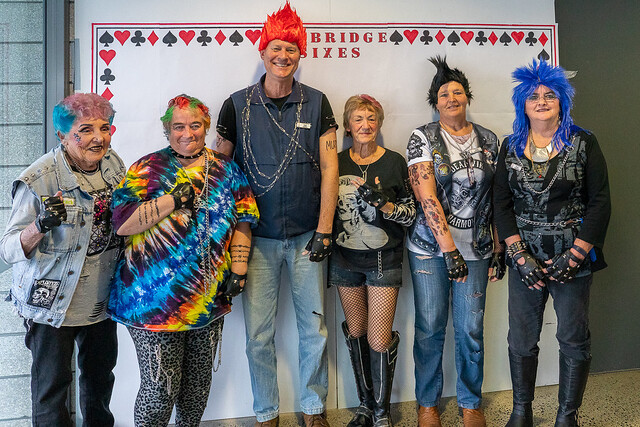 punks
The punk team did well to get a placing in the dress up (no mean feat when it is taken so seriously by some teams!). And also a big congratulations to Peter Daffurn and Judith Howard who were second in the intermediate section.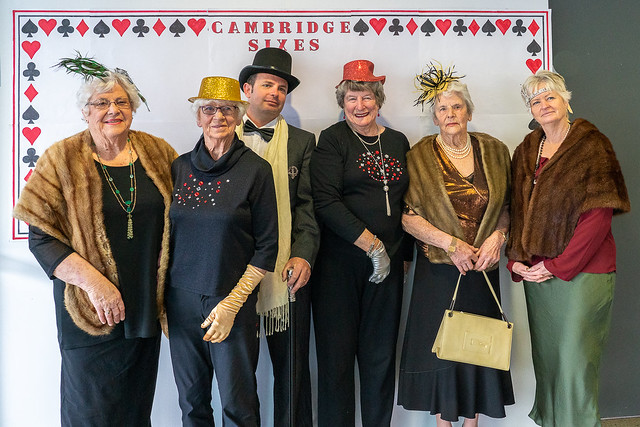 Matamata hoi polloi
The other Matamata team looked the part also!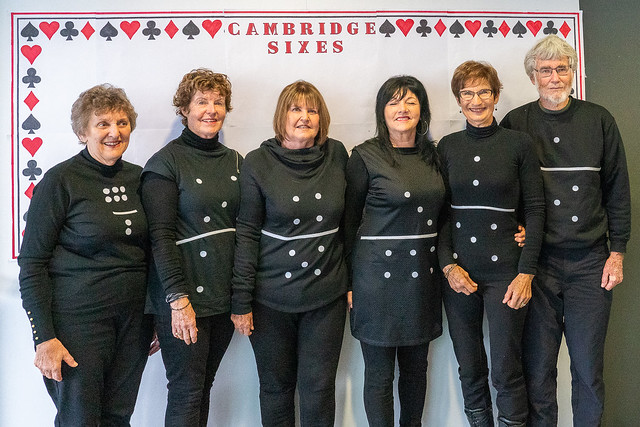 Morrinsville
While Morrinsville was set for a tumble (being domino's and all!)
BENEFIT NIGHT-Fund raising and Bridge.
Matamata held a very successful benefit night last Thursday raising $900 to go to the Matamata Citizen's Advice Bureau.
A good amount of tables turned up to play - 12 in total including visitors from Te Aroha and Morrinsville.
The Matamata 5A was well supported by both players (40 pairs packed the clubrooms) and club members who helped in a myriad of ways. Great catering, sponsorship from J Swap as well as Sonia Crawford donating wines for the session winners.
Winners following two session wins were Te Puke's Christine Gibbons with Waikato's Jenna Gibbons.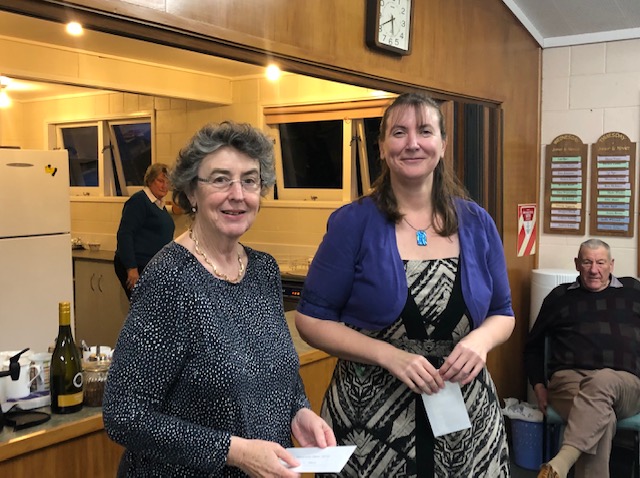 Winners of 5A: Christine and Jenna Gibbons
Russell Wilson from New Plymouth and Patrick Carter of Auckland repeated their effort from last year coming second.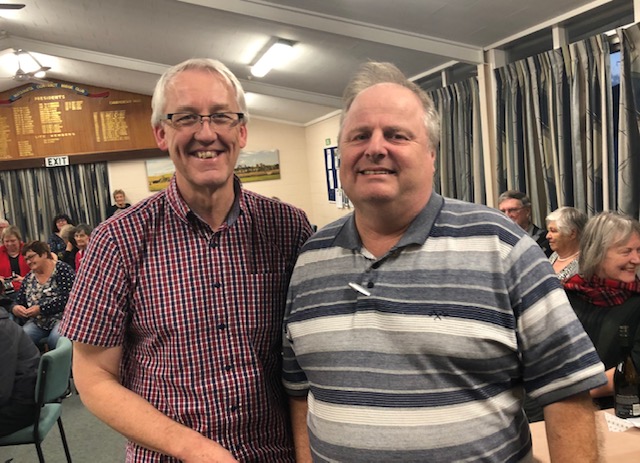 2nd place: Russell Wilson and Patrick
Our very own Noel Grigg combined with Jeremy Fraser-Hoskin the young gun from Auckland to take out third place with a session win in the morning and 61% in the afternoon.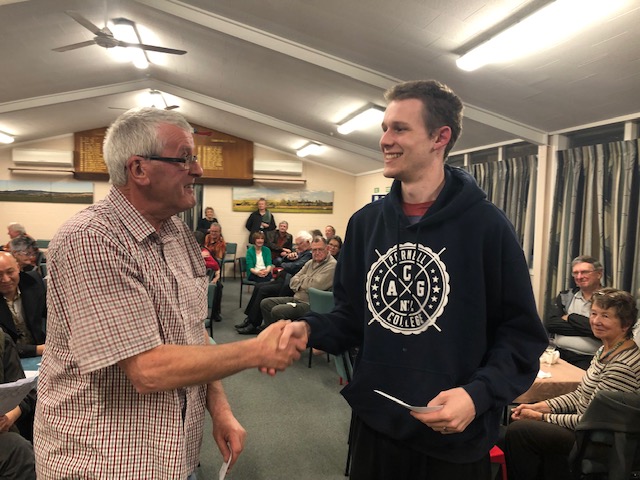 3rd place: Noel Grigg and Jeremy Fraser-Hoskin
The best Matamata pair was Lesley Quilty and Anna Kalma while the top non-open were Joanne Swanwick and Judith Howard also from Matamata.

Packed room
The club received the sad news that George Sherrell died yesterday in Tauranga where he had been for the past six months and Desma Dickinson from Matamata also passed away after a prolonged battle with Parkinsons last Tuesday.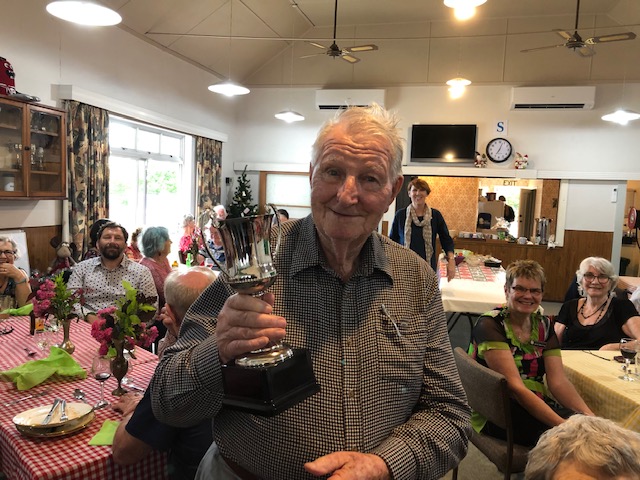 George: George winning the 2018 Auckland Cup at Te Aroha
George belonged to the Matamata, Cambridge, Te Aroha and Hamilton Clubs and played at all of them each week.
He will be remembered as a gentleman of bridge and kept the order (especially at Te Aroha!) using his directing experience of many years. He always got into the spirit of events and dressing up and taking part and was still winning events at age 90.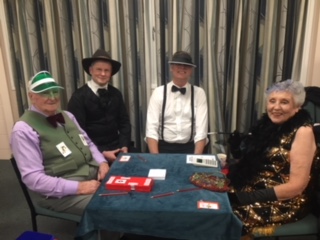 Gamblers: George, Malcolm, Peter and Laurie
Desma Dickinson was a longtime member of the Matamata Bridge Club and friend to many. Desma has battled parkinsons for many years but it was great to see her returning to the club after a few years away. Sadly the disease got the better of her over the past year and she passed away at 75 years.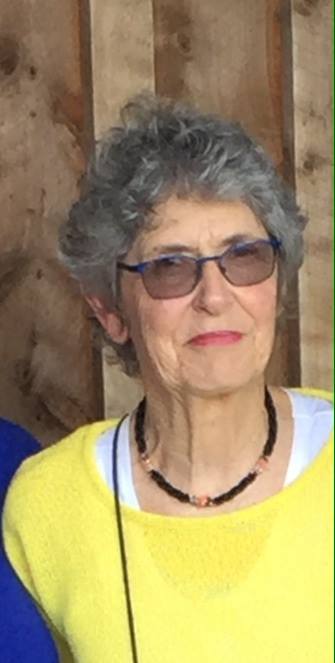 Desma Dickinson
Both Desma and George will be missed at the table.
The Matamata Open 5A Tournament takes place in Matamata on the 27th July. Morning tea from 9:30am and 10:00am start.
The entry fee of $38 includes a beautiful catered lunch. morning tea with refreshments following.
Online pre-payment welcome to 03-0363-0323853-00.
Entry online at the NZ Bridge website or to contact us matamatabridge@gmail.com.
Also Benefit Night will be on Thursday 8th August. We welcome visitors from other clubs and will provide details shortly.
The 2019 Matamata Champs came to a conclusion following 7 nights of competition.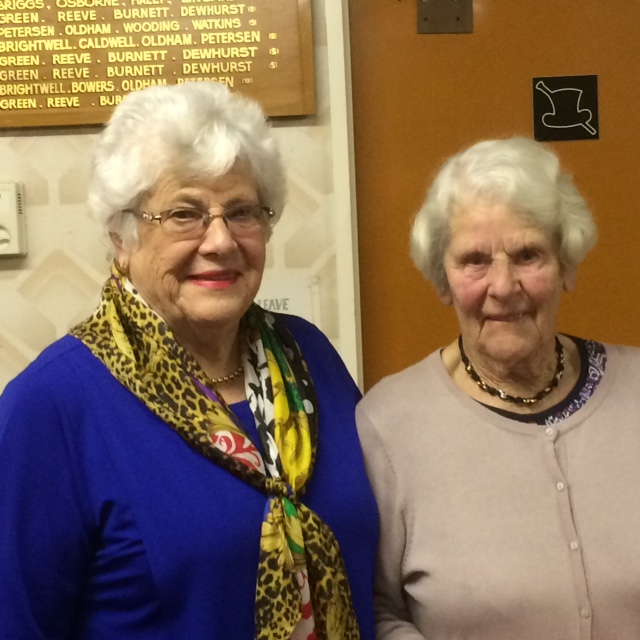 Lesley and Sonia
The honours board has a familiar feel with Lesley Quilty and Sonia Crawford taking the outright champs for another year. Not sure how many times their names are on the board with each other and other partners but it must be about 20!
And congratulations to Helen Reid and Coral Daisley who took out the handicap event running concurrently.